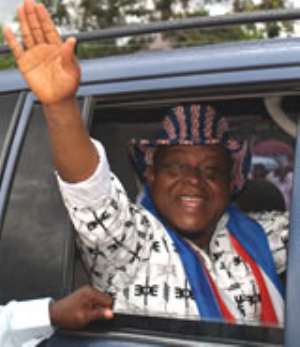 Prof. Mike Oquaye speaks on appointment of security capos
Prof Mike Oquaye, Member of Parliament for Dome-Kwabenya and a deputy speaker of Parliament says Prof Mills did nothing wrong in appointing an IGP and a CDS without consulting with the Council of State.
Prof Oquaye's comment follows widespread accusations that the President breached the 1992 constitution when he filled the positions of the Inspector General of Police and the Chief of Defence Staff without the consent of the yet-to-be-constituted council.
A legal practitioner, Ace Ankomah had described as "unconstitutional" the appointments of the new security capos although in acting capacities.
President John Evans Atta Mills appointed Mrs Mills-Robertson as acting IGP; and Chief of Naval Staff, Rear Admiral A. R. S. Nunoo as acting Chief of Defence Staff.
Speaking to Citi News on Monday, Prof Oquaye who is also NPP MP for Dome Kwabenya, said the President could not have allowed the former holders of the two portfolios to stay given how sensitive the two offices were to national security.
He said people attacking the President's decision may be doing so out of mischief or ignorance.
Prof Oquaye, also a lawyer, said in a transition period such as Ghana's, the President has to take certain appointments even though the Council of State is yet to be constituted.
"Let us make some things clear. With regard to positions like CDS, IGP and so on, a President should feel comfortable working with the person. There are not two ways about it," he said.
"You cannot appoint a president duly elected by the people of Ghana and then tie his hands and compel him to work at the highest level with certain people that he the President doesn't feel comfortable working with," he opined.