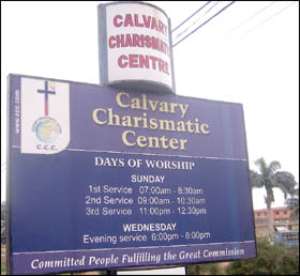 Church billboards in Kumasi Churches in Kumasi in recent times have stepped up their advertising strategies with the intention of increasing their members.
These advertisements come in different forms such as erection of giant billboards, banners, and buying of air-time on radio for preaching and other Christian activities.
The billboards and assorted banners and posters which carry the direction and activities of the churches are pasted at vantage locations to serve the public.
Formerly, it was rare to sight billboards advertising a church in Kumasi because churches at the time thought advertising was only for the business world.
But now due to modernism, churches do not only use classy billboards but sophisticated ones to advertise their outfits.
Some of these billboards and banners are haphazardly positioned which often times become problematic to traffic regulations.
It is believed that the growing number of congregants is responsible for this new development which obviously makes it possible for the public to locate the church of their choice whilst knowing its activities.
Another avenue which churches are employing to effectively reach out to the public and advertise their activities is the radio.
Now it is almost a ritual in Kumasi for every church, especially the charismatic ones, to buy expensive air-time on radio to preach as well as embark on other Christian activities such as counseling and prayer session.
The leaders who come to represent their churches on radio these days give little regard to privacy as they go to the extent of announcing their private numbers on air for members of the public to contact them for spiritual assistance.
From Morgan Owusu, Kumasi