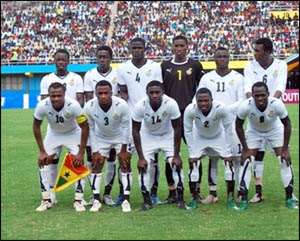 Black satellite THERE WERE wild jubilations in Kumasi and its surroundings  yesterdays afternoon when the national under-20 team, the Black Satellites humbled Cameroon 2-0 to win the Africa Youth Championship in Rwanda.  
Residents in the city most of whom watched the titanic encounter on their television sets, jumped into spontaneous jubilations immediately the game came to an end.   About 30 minutes after Skipper Dede Ayew had lifted aloft the coveted trophy, residents of the city, mostly dressed in the red, yellow and green colours of Ghana, were seen chanting and jumping in the streets.  
The jubilations were particularly visible in places like Bantama, Krofrom, Asafo and Ash Town, noted for boisterous activities.  
Taxi drivers in the city were not left out in the spontaneous jubilations as they were seen driving at top speed amid tooting of horns and chants of 'Ghana! Ghana!! Ghana!!!'.  
Some drinking spot owners that spoke to DAILY GUIDE SPORTS expressed delight about Ghana's win, saying that they were expecting high patronage in the evening.  
Adwoa Pomaah Gyasi, a first-year student of the Garden City University College at Kenyasi who claimed to be an ardent sports fan, heaped tons of praises on the Satellites, urging the other national teams to emulate them by winning more laurels for Ghana.
From I.F. Joe Awuah Jnr., Kumasi