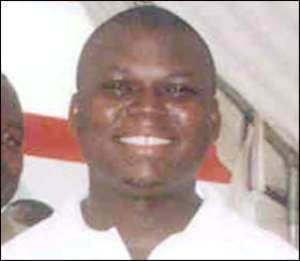 Frank Kyei The Accra Area Sales Manager of Engen Ghana Limited, Frank Kyei, has debunked media reports that accused him of plunging Merchant 2000 Limited, an oil marketing company, into huge financial trouble.
Charles Wiredu, owner of Merchant 2000 Limited, on December 20 last year, filed a law suit against Mr Kyei for being the cause of the demise of his outfit.
The law suit said it entered into dealership arrangement with Engen Ghana Limited for the sales and marketing of petroleum and allied products.  It said prior to the execution of the agreement, Engen Ghana had asked Merchant 2000 Limited to produce a business plan and a cash flow statement.
The suit further stated that Mr Kyei mentioned to the plaintiff that he could prepare the business plan for a fee as a consultant, for which he was given the green-light.
The suit said after operating the said business plan for a period of one-year, the anticipated profits contained in the business plan could not be achieved, thereby causing Merchant 2000 Limited huge financial losses.
Mr Kyei in a re-joinder however described the afore-mentioned claims as "blatant falsehood" and an attempt by Mr Wiredu to cast a slur on his name.
Presenting his side of the story, the Sales Manager of Engen Ghana Limited said Merchant 2000 Limited entered into a contract with his outfit to sell and distribute its products from its petrol station in July 2006 but the company's operations fell short of the contractual obligations.
He alleged that Merchant 2000 Limited took several consignments of petrol and diesel from his outfit but failed either to sell or to account for the said products.
"To date, they stand indebted to Engen for well in excess of $50,000," Mr Kyei stated, alleging that the money has been embezzled and misapplied by Mr Wiredu to pursue his half-baked cottage industry scheme of yam exportation to the United States.
The Sales Manager of Engen Ghana Limited noted that his company had to finally terminate the contract with Merchant 2000 Limited and ask them to leave a petrol station premises his company owned at Adarbraka, Accra in September last year.
"Unprofessionalism and incompetence of Charles Wiredu is the root cause of their failed business," Mr Kyei charged, pointing out that he has at all times acted professionally as the Area Sales Manager of Engen Ghana Limited.
"At no point in time was I expected to, or responsible for teaching, coaching or advising Charles Wiredu, Merchant 2000 Limited or any other entity in any capacity, financial or otherwise," he said.
From Business Desk