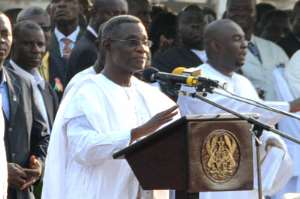 President John Evans Atta Mills addressing the gathering President John Evans Atta Mills, yesterday attended a national interdenominational prayer service, on the theme, 'Uniting Ghanaians through Christ at the Independence Square in Accra'.
The President, in consultation with the leadership of the Christian clergy, declared Sunday as a national day of prayer and thanks giving to God for the peaceful and successful elections.
The theme reflects the President determination of ensuring that Ghanaians, irrespective of their ethnic, political or religious affiliations see themselves as one people with a common destiny.
In his address, Prof Atta Mills, proposed that every last Friday in January and every first Sunday in February every year be observed as National Muslims and Christians Day of Prayers and Thanksgiving Service respectively.
'We are all God's creation and let us rely on him for all things we need. We need to forgive one another and lean heavily on God at all times and also unite the nation and move forward as one people', the President said.
President Mills observed that honesty, transparency, hard work and love for one another are needed to build a proper nation for the betterment of the people.
He commended Ghanaians for the various roll played in ensuring a peaceful and successful elections, saying the election has cemented Ghana's enviable reputation. The President added that it is time to move into action since the election is over.
Delivering the sermon, Reverend Eastwood Anaba, the Senior Pastor of the Fountain Gate Ministry in Bolgatanga, called on all political parties to give proper attention to the president in order to man the country well since leadership is by God.
Reverend Anaba observed that suspicion for one another is too much and needs to be discounted since it does no good to the country. He said Ghanaians ought to live above party line, religion as well as tribe and unite so they can all fine-tune to the challenges confronting the nation.
In his words of exhortation, Bishop James Saah of the Ghana Pentecostal Council, said peace is very crucial since that is the only way people can be secured and go about freely with their duties without any fear.
He said Ghana is blessed because she went through peaceful and successful elections. Bishop Saah observed that in some parts of the African continent areas still experiencing election violence. He therefore called on all Ghanaians to endeavour to consolidate the peace in the country.