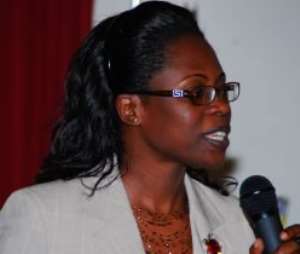 Investment analyst, and Chief Execu­tive Officer (CEO) of NewWorld Renais­sance, Ghana, Ms Abena Amoah, says the new government should focus more on the economy to ensure lower interest rates, and inflation to sustain progress.
"Inflation, exchange rate stability and lower interest rates are very critical going forward", Ms Amoah stated in a chat with Graphic Business.
According the investment analyst, lower interest rates could help spur the growth of industries as companies would be able to access funds at lower cost for expansion of their businesses, and improve other areas of their businesses. This could mean taking advantage of opportunities that hitherto had proved difficult to utilise.
The fear is that if interest rates are not checked, and the cost of borrowing goes up, the private sector would find it difficult to secure the necessary credit for their operations. Given the importance of the private sector to national development, this could spell doom for the economy.
The other worry is that already industry and investment analysts have expressed fears of an unstable economy this year fol­lowing the report by the World Bank coun­try office that Ghanaians should brace themselves for a tough 2009 and beyond.
This situation has heightened the anxi­ety of many businesses, especially the fear that the country's macro-economic stabili­ty could be compromised in the heat of the global economic crisis.
"Many analysts share the view of Ms Amoah. According to the President of the Ghana National Chamber of Commerce and Industry, Mr Wilson Atta Krofah, "government must manage the perfor­mance of the cedi against international currencies and control inflation to moder­ate cost of doing business in the country."
Industry players are apprehensive because of the economic events of the past year which led to the cedi depreciating faster than most periods in the previous eight years.
The cedi, for 2008 depreciated by 22.17 per cent to the United States dol­lar; the highest since it recorded a 49.90 per cent depreciation in 2000.
Experts say with the manufacturing sector becoming more competitive with the influx of cheap imports from China, the currency would be put under serious constraints in the coming months.
Ms Amoah is of the opinion that the government should also develop and implement policies that would ensure and facilitate investments through savings.
"Savings can facilitate investments in the country", she stated, adding that there was the need to bridge the gap between local investments and foreign investments.