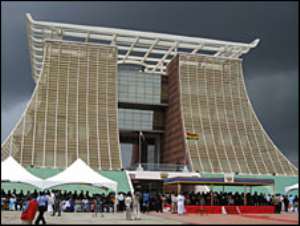 The Ashanti Regional Communications Director of the New Patriotic Party (NPP), Kwadwo Afriyie, says the party's loss in the December elections could not have been caused by a single factor.
Rather, he said, the NPP lost the elections because of a plethora of reasons which call for immediate action by party executives.
Mr Kojo Afriyie was reacting to a comment by the Communications Director of the Akufo-Addo campaign team in the last elections that some decisions of former President Kufuor caused the defeat of the NPP.
According to Mr Arthur Kennedy the building of the presidential palace by the former President whisked a great deal of popular votes away from the party.
Dr. Arthur Kennedy said "as a Ghanaian and as a politician, I wish we hadn't built the Presidential Palace."
But reacting to the issues, Mr Afriyie said the causal factors could not have been an individual's error only but certain issues the party glossed over during the crucial campaign.
"We don't have just one reason that the NPP lost," he said.
Mr Afriyie said the NPP launched a campaign that may have been misunderstood by Ghanaians.
Issues arising from the party's primaries could have also dealt a big blow to the NPP, he recounted.
Kufuor's role
The NPP campaign module was one of the best on the campaign trail, analysts say.
The party had seasoned politicians in sensitive positions in a campaign programme that was moulded for a crucial national decision making.
Indeed intense debate erupted from among the NPP as to whether the former President was doing enough to better the fortunes of the elephant fraternity in the elections, fuelled by rumours of a rift between the former President and the flag-bearer in the elections.
Although Mr Kufuor at a press conference in Kumasi sought to dismiss such perceptions of a fracas between him and Nana Addo, many a party member held on to their convictions.
That notwithstanding, Mr Kufuor was on many a campaign platform of the party pushing strongly for Nana Addo's election in the polls.
Story by Fiifi Koomson