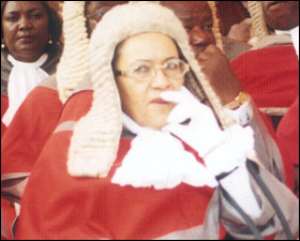 Mrs. Justice Joyce Bamford-Addo, Speaker, has
said the success of the Fifth Parliament greatly depended on how the
legislators assimilated the rules of procedures of the House in discharging their legislative functions.
She said the Institution of Parliament and Members of Parliament (MPs) would not be spared the scrutiny of the watchful eyes of the media and the public because they had been entrusted with political authority by the good people of Ghana.
"In the light of this, any acts of commission or omission will not be glossed over by the media," Justice Bamford-Addo said at the opening of a
week-long orientation workshop for the MPs at the Ghana Institute of
Management and Public Administration in Accra at the weekend.
"You must always remember that the capacity of members of the House to perform their oversight responsibility will be questioned when weaknesses
in the quality of your work as Parliamentarians are exposed," she said.
Justice Bamford-Addo said: "for the one week that you will be here to
receive tutelage by renowned resource persons on an array of topics, which
hinge on our Parliament, let us take a non-partisan and sober reflection of
our role in refining the legislative process."
Peter Cardinal Appiah Turkson, Archbishop of Caper Coast, who spoke on post-election harmony, said the MPs should see their role as leaders as a divine mandate to fulfil the aspirations of the people.
He said they should discharge their duties in a non-partisan way by building consensus and harmonious relationships in their work in parliament to push the nation forward.
Mr Alban Bagbin, Majority Leader and Mr Osei Kyei-Mensah-Bonsu, Minority Leader, in brief remarks, urged the MPs to take advantage of the workshop and build their capacities to enable them to contribute meaningfully to work in the chamber.