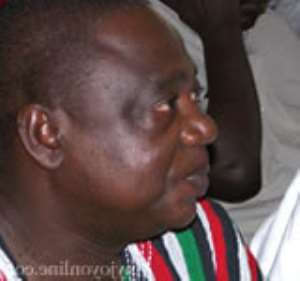 Some citizens from the Lawra/Nandom Constituency resident in the Upper East Region have expressed shock and dismay that the former Member of Parliament (MP) for the area, Dr Benjamin Kumbuor, has not been nominated for any Cabinet Ministerial appointment.
Consequently, they have cautioned that if Dr. Kumbour is not given a Cabinet Ministerial position, it could lead to the decline of the strength of the NDC in the constituency in the coming years; adding that "we are ready to campaign against the NDC, come 2012 in the constituency. "
They were of the view that although Dr Kumbuor lost his seat, his contribution to the success of the party, both at constituency and national levels, considerably improved the NDC's chances of winning the elections.
A statement issued in Bolgatanga and signed by Messrs Edward Naasuzu and Maamino Gregory, leading members of the concerned citizens, said they were particularly unhappy about the exclusion of Dr Kumbuor from the list released by the President for vetting.
It said Dr Kumbour performed his role well as a ranking member for Defence, the Interior and finally Finance and Economic Planning, and in all these positions, he articulated and defended the NDC's positions at all times.
"In as much as it is the prerogative of the President to appoint people he can work with to realise his vision and policy, we feel that leaving out a personality such as Dr Benjamin Kumbour will be a big blow to the constituency, the region and Ghana at large," it said.
It said Dr Kumbuor's contribution to national issues endeared him to the hearts of many Ghanaians, both supporters and non-supporters of NDC, and also made him one of the leading members of the party.
It noted that although Dr Kumbour lost the parliamentary seat, the NDC won in the constituency. Besides, Dr Kumbour had been a strong pillar in the party, especially in the constituency, ensuring that the NDC won massively in the constituency since 1992.

"We are of the view that the only way the President can appreciate the constituents for their hard work over the years is to consider Dr Kumbour for appointment as a Cabinet Minister," the statement said.
The group cautioned that if Dr Kumbour was not given Cabinet Ministerial position, it could translate to the death of the NDC in the constituency in the coming years, adding that "we are, ready to campaign against the party in the constituency come 2012."