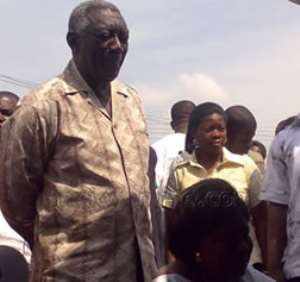 For the first time since stepping down as Ghana's leader, former President John Agyekum Kufuor has stormed Kumasi, the Ashanti regional capital.
A native of the region, Mr. Kufuor, whose second term as president officially ended on January 6, 2009, arrived in Kumasi via road on Friday.
Though the visit was not publicised, Mr. Kufuor, according to witnesses, was given a rousing welcome as curious people who learnt of his arrival lined up the streets to catch a glimpse of him.
The shouts by joyous people reportedly drew others to the scene as more people, notably women, struggled to shake hands with Mr. Kufuor.
Security personnel who accompanied the former President had a hectic time controlling the crowd.
Former President Kufuor was said to have visited the Manhyia palace where he paid homage to the Asantehene, Otumfuo Osei Tutu II.
Though they had a meeting behind closed doors, sources at the palace hinted DAILY GUIDE that the two personalities had fruitful discussions.
There was merrymaking when the former President visited his family home, the Apagyafie, around Dr. Mensah, a suburb of Kumasi, on Saturday afternoon.
Mr. Kufuor, sources indicated, exchanged pleasantries with all including family members, women and children who besieged the place.
The source disclosed that the former president was in Kumasi with only his bodyguards and is expected to leave on Monday.