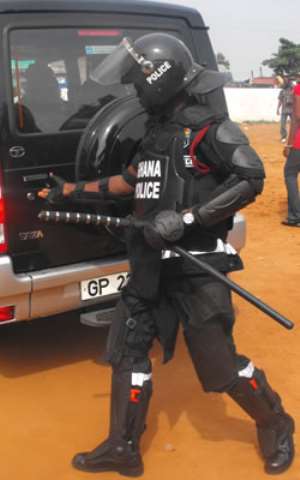 Ghana Police
The Ghana Police Service has its motto "Service with Integrity" and it is due time to rise-up to their motto.
I am compelled by the sudden death of the 23-YEAR old carpenter, Kwabena Boateng aka Dukura who was lynched by irate youth of Kunka New Town, a suburb of Obuasi, over an alleged missing Nokia 1100 phone valued at GH¢30, published on Joy FM website on 31st January 2009, to write up this piece.
Kwabena, your untimely death is irreplaceable and may your soul rest in perfect peace. This is one out of the numerous murder cases in Ghana, and the response of the Ghana police is really sad.
The Ghana Police is one of the few institutions in Ghana that benefited immensely by Kufour-Government and this is an undeniable fact, but crime rate did not see any commensurate reduction. It is in this vain that personally, I do not rejoice in the current operation by police service that led to arrest of many suspected criminals in Accra. Anyone that had followed police service operations in Ghana will notice that it is usual operation especially whenever there is a new government in power. It is my wish that this will be sustainable operation against crime. Therefore, I want them to prove me wrong by bringing crime to it's bearest minimum in Ghana
Beside security cameras that are missing on the street of Ghana and most shops, I do not see much difference between Police Service in Ghana and their counterpart in Europe. I am yet to be told that the Ghana Police do not have laboratory, psychologist, communication gadgets, vehicles etc to be able to investigate murder cases in Ghana. As a matter of fact, the Ghana Police have water cannons; tear gas etc to fight especially students in Ghana, but when it comes to fighting crime it is a different story, we are working hard.
There is no doubt that voluntary of information to the police by the public could help in apprehending culprits. But, how can the public help the police when they live at the mercy of the criminals?
How can the public help when people are even being murdered at police cell? How can the individual put his or her live on the line when the police are perceived to be corrupt?
It is about time for the Ghana Police Service to wake-up and be up and doing.
Like Kwabena's case, the police have all that is needed to arrest at least a suspect but we are been told and I quote ASP Asante; 'though no arrest had been made yet, his outfit was working hard to track down the perpetrators so that the law could take its course'. We are further with this kind of statement which do not bear any fruit or bring any outcome.
This lackadaisical attitude of the police goes on to fuel the few realities and at times the public perception of the service. The Police Service is one of the respected institutions in the advance countries but can this be said about them in Ghana? This should not be the case, because good name is better than riches. I quite remember in the year 2003, I decided to go to the United Kingdom for further studies. I went to the embassy early to submit my application form but noticed that peoples were by-passing me in the queue. I told the two police men on duty to stop that kind of things because I suspected some bad deal. I insisted and told them I will resist any further attempt to by-pass me but the men in uniform told me if I am a man, I should try. As a barrack boy, I was not afraid of the police but I respect them and knowing very well that I have a case, even if arrested I will tell their boss what they were doing. So I resisted their next attempt and lo and behold, I was arrested forcibly by the two men like a common criminal and sent to the Police Headquarters in Accra. It was amazing to read their report against me; obstructing public duty, creating public disorder etc. That was the day I recognized that the police had all the laws to protect even when caught taken bribe. I also gave my side of the story in the form of statement. In short, there was no one in the Police Headquarters willing to listen to me to the best of my knowledge. I wonder where I will be after the three hours at the counter if I do not know any of the big names in Ghana. The few bad ones in the service should not be allowed to tarnish the image of the vast majority in Police.
We all appreciate some of the difficulties facing the service, and workers in general but, one that can manage little can equally manage when given a lot and verse-visa. It is in this light that I am challenging the Ghana Police Service to redeem their image by working extra hard. When this is done, public confidence will be high in supporting the police in fighting crime, our common enemy in Ghana.