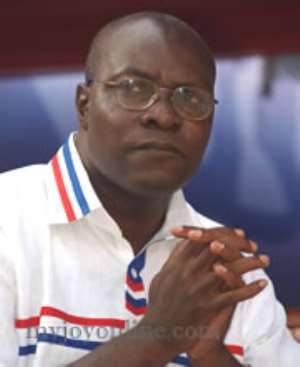 A former presidential aspirant of the main opposition NPP, Dr. Arthur Kennedy, says former President John Kufuor's decision to build a presidential complex was totally out of place and one of the main factors which scuttled the party's chances of winning the 2008 presidential election.
Dr Arthur Kennedy told Citi News the NPP would have been better of without such a decision.
Intense public debate and controversy erupted over the need for a presidential complex christened "Golden Jubilee House".
It was constructed with an initial 30 million dollar grant from the Indian Government and an additional 6.9 million dollar support from the Government of Ghana.
Dr Arthur Kennedy noted that "as a Ghanaian and as a politician, I wish we hadn't built the Presidential Palace".
He noted that considering the fact that it was an "Election year, all this hullabaloo and all that kind of thing. We had enough troubles without this adding to them. Would I have built a Presidential Palace? Hell no!"
He explained however that it was "not because we don't need one but because we don't need the flack of doing that. Maybe it could have been built at another time".
"When someone is sitting in Buprungu and Bripro and they can't have access to a clinic or their children can't go to good schools or they can't drink good water. It is very difficult to let that person understand that you are spending 80 million building a Presidential Palace", he added.
Meanwhile, Nana Ato Dadzie in an interview with Citi News said the Golden Jubilee House is expected to cost a total of 135 million dollars if Government decides to implement the second phase of the project.
It is however not clear if the new Government will implement the second phase of the project.
The member of the Executive Assets sub Committee of the NDC transition team told Citi News the first phase of the complex is estimated to cost about 80 million dollars eventually.
He says the transition team found that 69 million dollars have so far been sunk into the building with an additional 10 or 12 million dollars needed for its total completion.
Nana Ato Dadzie also told Citi News the estimated 80 million dollars expected to be the final cost of the first phase of the project could be exceeded since there are currently outstanding cheques of over 7.5 million dollars yet to be paid for works already done.
He explained that the 7.5 million dollars is totally different from the 10 or 12 million dollars estimated to be needed for the completion of the first phase of the project.
Immediate past Chief of Staff, Mr Kwodwo Mpiani, admits there are outstanding bills to be paid some contractors for work done on the building but disagrees with Nana Ato Dadzie that about 12 million dollars is needed to complete the first phase of the project.