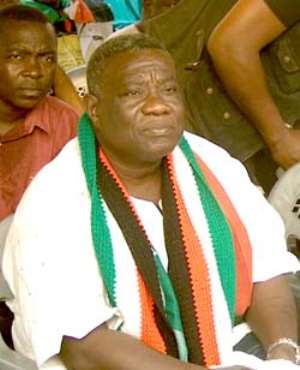 The president, John Evans Atta Mills, has implored fellow Ghanaians to apply God's principle of "honesty, transparency, hard work and love" as inscribed in the Holy Bible for Ghana to develop.
He considered these four cardinal points as the "only virtues" when put into practice rightly, especially in politics, could produce a "strong and viable" nation.
President Mills was addressing hundreds of Christians at the Independence Square in Accra on Sunday at a national thanksgiving service on the theme: "Uniting Ghana Through Christ".
The congregation was not made up of only Christians and their clergies but there were as well traditional rulers, security officers, politicians, fetish priests and Moslems.
President Mills called for a united Ghana, once the elections are over, to fight the challenges confronting the nation together.
He was grateful to God for seeing the nation through the elections peacefully, without experiencing the calamities that befell other countries on the continent and across the world.
"Thank God Ghana has found God," he said. "Without God a nation will fall…Ghana has a special place in the heart of the Almighty and I believe He will not abandon us."
He proposed the nation sets aside the last Friday in January and first Sunday in February, every year, for a national thanksgiving service for Moslems and Christians respectively.
Special prayers were said separately by Apostle John Annan-Addotey, President of the Ghana Pentecostal Council, Bishop James Saah of Christian Action Faith and Rev. Prof. Emmanuel Martey, Chairman of the Ga Presbytery, to dedicate the President, Legislature and Judiciary and the nation into the hands of the Almighty God.
First and second scripture readings were done by the Chief Justice, Mrs. Georgina Wood and the Speaker of Parliament, Mrs. Joyce Bamford-Addo respectively.