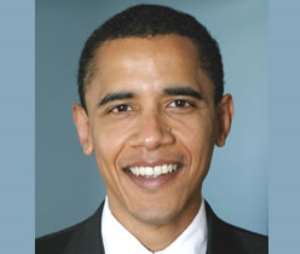 Barack Obama
Americans have been getting used to the sight of a new president in the Oval Office.
The euphoria of Barack Obama's inauguration has given way to much less exciting business of governing. Mr Obama has not only brought new policies to the White House but also a very different style.
It has been nearly two weeks and as Mr Obama promised, change has indeed come to Washington.
Not the big ticket policy shifts the Democrat had been pledging; fixing the economy, ending the war in Iraq and closing Guantanamo Bay which will take some time.
No, the change has been much more symbolic and cosmetic. Starting in the Oval Office.
Mr Obama has created something of a sensation for daring to take his suit jacket off as he goes about the business of ruling the free world.
Under his predecessor's reign a coat and tie was mandatory for anyone wanting to enter the president's inner sanctum.
One of Mr Obama's advisers says there a logical explanation for this perceived drop in sartorial standards.
The new President apparently hates the cold and he has turned the Oval Office heating up full blast. "He's from Hawaii", exclaimed the adviser, "He likes it warm. You could grow orchids in there."
There has also been a warming of relations between the White House and Congress.
Former president George Bush avoided Capitol Hill like the plague. If he wanted to speak to congressmen and senators, well they could damn well come to him.
Last week Mr Obama surprised many political veterans by happily taking the short drive down Pennsylvania Avenue to personally put his case to congressional Republicans for the proposed economic stimulus package.
If the new President looked at home as he strolled the corridors of Congress, well, he did spend four years there as a senator.
There is also the sight of two young children roaming the corridors of the White House. The people of Washington have been following the lives of Sasha and Malia Obama just as they would a soap opera.
The girl's have added to the human touch of the new President. He may busy fighting recessions and wars but Mr Obama and wife Michelle dropped in at their daughter's school the other day for a parent-teacher conference.
And like all parents trying to adjust to Washington life, Mr Obama has been confronted by the peculiar rules that require local schools to shut once the slightest sprinkling of snow settles on the nation's capital.
For somebody from snow-bound Chicago this has been a bit hard to bear.
"My children's school was cancelled today because of what? Some ice?" said Mr Obama.
"As my children have pointed out, in Chicago school is never cancelled. In fact my seven-year-old pointed out that you go outside for recess, you wouldn't even stay indoors!"
"So, it's, I don't know; we're going to have to try to apply some flinty Chicago toughness to this town.
"I'm saying when it comes to the weather folks in Washington don't seem to be able to handle things."
This is one challenge that might just prove a bit too tough for the new chief resident.
Source: ABC