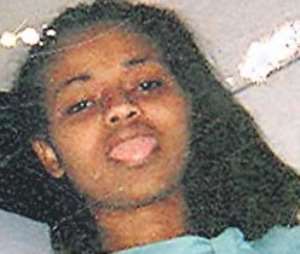 Emma Abbey - grieves for her husband
Emma Abbey's husband John, 26, was on his way to visit her in hospital when he was killed. Their three-year-old daughter, who was by his side and witnessed her father's murder, was left to be looked after by witnesses as he was taken to the same hospital as his wife.
He died without seeing his newborn baby. Last night a family friend said: "Emma is torn apart by grief. She is only young and has had the man she loves ripped away from her at just the time she needs him most.
"One day she will have to tell their child what happened to daddy on the day of its birth. It does not bear thinking about."
Yesterday it was revealed the man arrested on suspicion of murdering Mr Abbey used to be his best friend.
They came from the same part of Ghana in West Africa and used to share a flat in Croydon, South London.
Detectives were last night granted an extension to quiz the suspect, 22, as the three-year-old's mum tearfully tried to explain to her what had happened to her father.
Ex-boxer Mr Abbey had been on his way to the Mayday Hospital in Croydon when he was knifed through the heart at the bus stop outside a supermarket on London Road in West Croydon.
He has two other children from another relationship in East London and one more child in Ghana.
His daughter yesterday had an emotional reunion with her mum. A hospital source said: "Mother and baby are healthy but their family has been broken in half.
"The mum and dad were not married but they had been living together for several years.
"Their little girl is still very shocked by seeing her dad die in front of her. She was terrified and just said 'Dad', 'Mum' and 'Mayday' when a security guard from the employment tribunal centre nearby took her inside so she didn't have to see her dad being resuscitated.
"She didn't speak for ages. It was hard to even get her to say her name. As you can imagine, the mum is going out of her mind."
She has been moved into a private room and has been in contact with counsellors and a police family liaison officer.
The mum has been asked to help contact Mr Abbey's family in Africa.
Mr Abbey had boxed at lightweight level for Ghana in the 2002 Commonwealth Games in Manchester under the name King Abbey.
Detectives are still looking for two black youths aged between 15 and 20 who were at the bus stop when Mr Abbey was murdered and may have been involved in a scuffle. They appealed for them to come forward.
Source: Mirror, UK