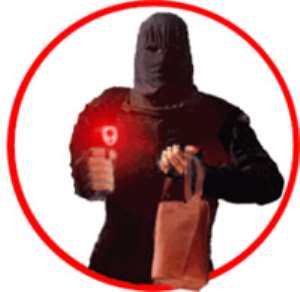 Police at Aflao have nabbed two suspected members of a cross-border armed robbery gang operating in Togo and Ghana, who allegedly rob an Aflao based businesswoman.
A locally manufactured double pin shotgun, 10 cartridges and a knife were found on them at the time of the arrest.
They are Adewale Tiayo, alias Iron, 34, an unemployed Nigerian based in Lome, Togo and his Ghanaian collaborator, Mark Lugudor, 30.
Two other Lome-based Nigerian members of the gang were said to be on the run.
Also arrested was a 14-year-old Ghanaian school pupil believed to had been trained by Lugudor and suspected to be involved in the attack and robbery of the businesswoman.
Mr Ahmed Issah Yakubu, Aflao District Police Commander, told the Ghana News Agency (GNA) on Saturday that around midnight on January 5, 2009, five armed and masked men, broke into the room of the businesswoman, madam Lovelace Ama Nyame at Avoeme Aflao and ordered her at gun point to surrender all money and valuables.
The armed men succeeded in collecting GH¢400, six mobile phones, mobile phone memory chips, jewellery, and GH¢1,500 worth of mobile phone recharge cards and bolted.
Mr Yakubu said the victim, during the incident identified Lugudor, who lived around her place by his belt, and therefore reported to the police.
He said the police therefore mounted a search at Lugudor's house found a gun and other dangerous implements under his possession.
Mr Yakubu said Taiyo was lured to Aflao where he was arrested after which the 14 year old by was also picked up.
Police investigations said suspects on the run had moved to Accra before their colleagues were arrested.