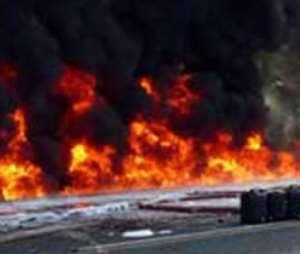 At least 100 people have died in Kenya after an overturned petrol tanker on a major highway caught fire and exploded.
Reports say the fire broke out after hundreds of people gathered to collect the spilt fuel in the town of Molo.
Dozens of people have also been injured in the blaze. Officials say the death toll is expected to rise.
The cause of the fire is not clear - some reports said it was caused by a lit cigarette, but others said it had been started deliberately.
One woman at the scene said her two sons had run to collect petrol after the tanker crashed and she had not been able to find them.
"I tried to stop them but they did not listen, they told me everyone is going there for the free fuel," she told Reuters.
Rift Valley police provincial commissioner Hassan Noor Hassan said there were 91 bodies at the site and a further 20 had been taken to a local mortuary.
The district police commissioner has ordered 150 body bags to be delivered to the town.
'Slow response'
Kenya Red Cross spokesman Titus Mung'ou told Reuters news agency the fire could have been started by someone dropping a cigarette.
But one eyewitness told the Nation newspaper that it had been lit by people whom the police had prevented from getting the petrol.
The newspaper criticised what it said was a slow official response to the fire, which was still reported to be burning several hours later.
"The Nakuru Municipal Council's fire engine arrived at the scene more than an hour after the explosion," said the newspaper, adding that Molo itself has no fire engine.
The BBC's Peter Greste in Nairobi says Kenya's emergency services have an appalling record for public safety standards.
The incident comes just days after a devastating fire at a supermarket in the Kenyan capital Nairobi killed at least 25 people.
Kenyan media also criticised the emergency response to that disaster, calling it slow and inadequate.
Source: BBC