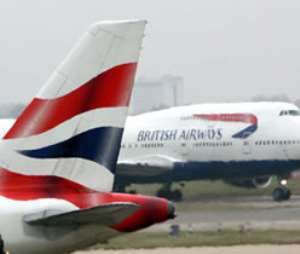 Britain's largest union demanded an urgent investigation yesterday after a British Airways cabin crew member died from malaria and two others were left seriously ill from the disease.
A BA air steward caught the most deadly strain of malaria after working on a flight from Heathrow to Ghana. Two more became ill after flying to other destinations. Officials from Unite, which represents cabin crew, raised their concerns with senior Whitehall figures that the incident could be linked to accessibility of anti-malarial tablets.
Steve Turner, the Unite national officer, said: "We would like to see a full investigation into the death of a BA cabin crew member from malaria and to see malaria tablets more readily available, as they once were."
BA used to provide its 9,000 worldwide crew with free anti-malarials at airport terminals, but now provides drugs only where a prescription has been issued. The company doctor is based at Heathrow. Union sources said that crews flying around the world, often at short notice, found it difficult to get free access to the tablets, and as a result many cabin crew members had stopped taking them.
A BA spokesman insisted the decision to change from over-the-counter chloroquine to the prescription-only Malarone, was based on the latter drug's superior strength. Chloroquine is not effective in sub-Saharan Africa – suggesting the old policy would not have helped the air steward.
BA refused to comment on suggestions that cost was a contributing factor. The low take-up means that far less of the medication is bought by the airline, which means the bill is lower, even though the new drug is more expensive.
The airline carried out a risk assessment in 2003 and found that there were only five cases of malaria, with no deaths, among flying crew over the previous decade. But since September there have been three cases in four months – one leading to the air steward's death. The man, a Thai national, is believed to have spent about four nights in Ghana in September on a stopover with BA. He became ill and is said to have died later that month. It is not known whether he died in the UK or in his home country.
A BA spokesman refused to discuss details of the case for reasons of confidentiality but said it was not known where the man had contracted the disease. However, infectious diseases experts said that it was highly unlikely that he contracted malaria in Thailand and that it was "99 per cent" probable the Ghana trip was the cause.
The majority of fatalities in the UK caused by malaria are from the Plasmodium falciparum species of parasite, transmitted by mosquitoes, which is predominant in sub-Saharan Africa. Sufferers become ill very rapidly, and without treatment can suffer multiple organ failure and die.
A BA spokesman said: "Our deepest sympathies are with the family and friends of one of our cabin crew who died in the autumn from malaria. Although we don't know exactly where or when the malaria may have been contracted, we have taken this opportunity to remind staff of our long-standing malaria advice procedures."
Source: The Independent