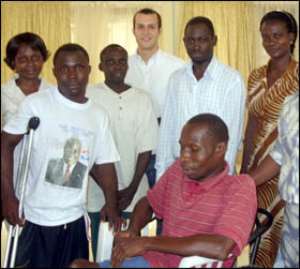 Some beneficiaries in a group picture
THE FREEWHEELCHAIRMISSION Organisation, a non-governmental organization (NGO) based in the United States of America has donated 20 wheelchairs worth €1000 to the Social Welfare Department to be distributed to some physically challenged persons in the Cape Coast Metropolis.
The Junior Advisor of Deutscher Entwicklungsdienst (DED) at the Cape Coast Metropolitan Assembly (CCMA), Mr David Jebens, who presented the items on behalf of the NGO on Tuesday, said the donation formed part of the organisation's social responsibility towards the less privileged in society.
The Metropolitan Director of Social Welfare, Madam Felicia Ankrah said it was the responsibility of the Department to ensure the wellbeing of physically challenged persons in the metropolis, hence the soliciting of such equipment to help them in their day-to-day activities.
"Every year, we try to solicit wheelchairs for our people and just last year, Latter Day Saints was able to give us 30 and some were even given to physically challenged pupils," she indicated.
Madam Ankrah cited an instance where some physically challenged people had dropped out of school due to the lack of wheelchair.
The CCMA Deputy Coordinating Director, Mr Ishmael Anaman, who received the items, thanked the NGO and appealed for more support for the disabled in society.
From Sarah Afful, Cape Coast