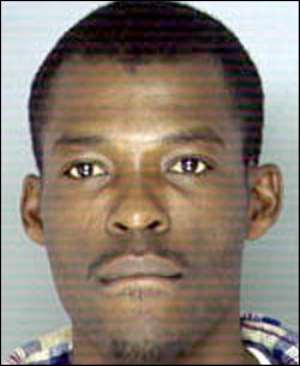 Jude Agbley A Forest Hills woman found strangled on her couch had more than a dozen profane text messages from her husband's cell phone accusing her of infidelity, police wrote in a complaint charging him with homicide.
Jude Agbley, 34, a native of Ghana, remained in custody Thursday, nearly a week after his wife, Brenda Agbley, 40, was found dead inside their Ogden Avenue home. Agbley, who was arrested by Border Patrol agents Wednesday at a Detroit bus station, is awaiting extradition to Pennsylvania, Allegheny County police Lt. Bill Palmer said.
Two Forest Hills police officers went to the house Jan. 23 after Brenda Agbley failed to pick up her 7-year-old son at a bus stop after school.
The officers entered the house through a garage door and found Brenda Agbley on a couch, with a blanket pulled up to her nose, according to an affidavit. There were marks on her neck that a medical examiner's office doctor said indicated finger marks.
The boy told police he last saw his mother at 8:30 the night before. When he awoke the following morning, he was accompanied downstairs by Jude Agbley and saw his mother on the couch, wearing the same clothes she wore the night before, according to the affidavit. He tried to wake her, but could not.
"Mommy had real red lips and marks on her neck," the boy said, according to the affidavit.
Pittsburgh police arrested Jude Agbley in 2003 for burglary but he never showed up for trial. An immigration agent also told county police that officials had issued a deportation order for Agbley in 2004 and that he had been a fugitive since then, according to the affidavit.
Police found the 14 messages on Brenda Agbley's phone, the affidavit states. Police described them as "accusatory and threatening in manner" and said they were sent the day before she was found dead.
There is no timeline for when Jude Agbley will return to Pittsburgh, Palmer said.