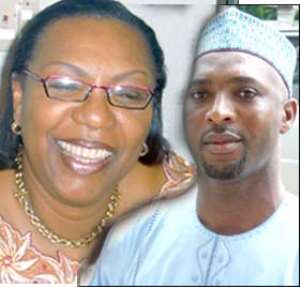 Betty Mould-Iddrissu andMubarak Muntaka THE MINISTERIAL nominees of President John Evans Atta Mills will be appearing before the Appointments Committee of Parliament on Friday February 6, 2009 to justify their inclusion in the Executive arm of Government.
The nominees would be grilled at a public hearing to determine whether they are persons of integrity, capable of discharging the duties of Ministers of State as enshrined in the 1992 Constitution.
Majority Leader, Alban S. K. Bagbin who announced this on the floor of Parliament on Friday, urged members of the Committee to take note of the event and treat it as an essential part of the business of the Legislative arm of Government.
Article 78 (1) of the Constitution states that "Ministers of State shall be appointed by the President with the prior approval of Parliament from among members of Parliament or persons qualified to be elected as members of Parliament, except that majority of Ministers of State shall be appointed from among Members of Parliament".
As part of the approval process, members of the general public are expected to assist the Appointment or Vetting Committee with information about the President's nominees to enable Parliament critically scrutinise them to fit in as capable and competent representatives of the President at the various ministries.
The first batch of ministerial nominees appearing on Friday February 6, 2009 are Alex Tetteh-Enyo, Ministry of Education; Cletus Avoka, Ministry of the Interior; Joseph Yieleh Chireh, Ministry of Local Government and Rural Development; Akua Sena Dansua, Ministry of Women & Children's Affairs and Juliana Azumah Mensah, Ministry of Local Government.
Those appearing on February 7 are Alhaji Muhammed Mumuni, Ministry of Foreign Affairs & Regional Integration; Joe Gidisu, Ministry of Roads & Highways; Dr. Oteng Adjei, Ministry of Energy; Sherry Ayitey, Ministry of Environment, Science & Technology; and Collins Dauda, Ministry of Lands & Natural Resources.
Ms. Hannah Tetteh, Ministry of Trade & Industry; Mrs. Betty Mould-Iddrisu, Ministry of Justice & Attorney General; Dr. Kwabena Dufuor, Ministry of Finance; Haruna Iddrisu, Ministry of Communication and Mike Hammah, Ministry of Transport would appear on February 9, 2009.
The nominees appearing on the following day are Lt. Gen. J. H. Smith (RTD), Ministry of Defence; Ofosu Ampofo, Eastern Region; Ama Benyiwa-Doe, Central Region; Kofi Opoku Manu, Ashanti Region; and Nyamekye Marfo, Brong Ahafo Region.
Those to follow are Mahmood Khalid, Upper West Region; Nii Armah Ashitey, Greater Accra Region; Mrs. Zita Okai Kwei, Ministry of Information; Mrs. Halutie Dubie Alhassan, Minister at the Presidency; Dr. George Yankey, Ministry of Health.
Stephen Kwao Amoanor, Ministry of Employment & Social Welfare; Moses Asaga, Ministry of Water Resources, Works & Housing; Alhaji Muntaka M. Mubarak, Ministry of Youth & Sports; Alexander Asum-Ahensah, Ministry of Chieftaincy & Culture and Mark Woyongo, Upper East Region.
The last batch to appear comprises Kwesi Ahwoi, Ministry of Food & Agric; Azong Alhassan, Ministry of Presidency; Joseph Amenowode, Volta Region; Mr. Paul Evans Aidoo, Western Region; and S. S. Nanyina, Northern Region.
By Awudu Mahama