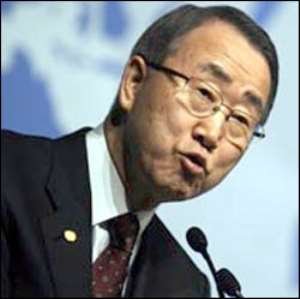 Ban Ki-moon - UN Secretary-General United Nations Secretary-General Ban Ki-moon on Thursday launched a humanitarian appeal to provide emergency aid to the people of Gaza in the aftermath of Israel's military offensive in the region.
Ban, attending the World Economic Forum in Switzerland, said that $613 million was needed to re-establish basic services providing water, sanitation, healthcare and food to Gaza's 1.4 million people.
At least 1,300 Palestinians died and more than 5,000 were injured during the 22-day campaign, according to U.N. figures. Around 21,000 homes were destroyed or badly damaged.
Thirteen Israelis were killed, 10 of them soliders, during the conflict, according to Israeli authorities.
Israel says the military offensive was aimed at rooting out Hamas militants responsible for launching rocket attacks into the south of the country from Gazan territory.
Ban, who described the destruction in Gaza as "heartbreaking" during a tour of the territory last week, said the $613 million fund would be sufficient to meet the needs of the U.N. And other aid organizations in Gaza for the next nine months.
John Holmes, the head of the U.N.'s Office for the Coordination of Humanitarian Affairs (OCHA), also called on Israel to lift an 18-month blockade which had "deepened the vulnerability of Gaza's population," according to the U.N.
"We're asking for the crossing points to be opened fully -- otherwise, we won't be able to achieve what we want to achieve," Holmes told reporters.
A cease-fire between Israeli forces and Hamas militants has been in place since January 21.
But Israel launched a missile attack Wednesday, targeting tunnels along Gaza's southern border which it says are used by militants to smuggle weapons into the territory. That came after Palestinian militants detonated explosives in an attack on an Israeli military patrol on Tuesday, killing one soldier. CNN
Ban said the cease-fire was "very fragile" and urged fresh diplomatic efforts to make it "more durable."
The near-four weeks of attacks destroyed public sector and private buildings in Gaza, affecting even the United Nations Relief and Works Agency's facilities and halting economic and social services, the Web site of the Palestinian Authority's Central Bureau of Statistics said.
Gaza's gross domestic product was slashed by 85 percent during the 22 days of war, and it could take a year for the economy to recover, the agency said in a preliminary report.
About 80 percent of crops in Gaza were destroyed, according to the agency.
Delegates at Davos are due to discuss the prospects of peace in Gaza and the Middle East at several sessions later Thursday.
Israeli President Shimon Peres, Iranian Foreign Minister Manouchehr Mottaki, Iraqi Foreign Minister Hoshyar Zebari and Tony Blair, Special Envoy to the Middle East for the U.N.-led Quartet, will join delegates.