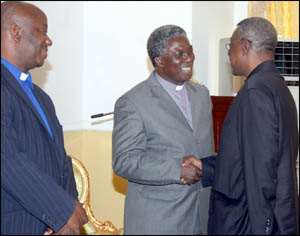 Prez Mills welocomig Christian Council of Ghana PRESIDENT JOHN Evans Atta Mills has assured the nation that he will be fair and right in carrying out his developmental agenda but the rule of law will be applied.
President Mills noted that as long as he rules by the truth and adhered to honesty, he would not be perturbed in ensuring justice, peace, prosperity and the rule of law.
The President stated these when members of the Christian Council of Ghana called on him at the Osu Castle in Accra to congratulate him on his election.
The delegation was led by Rt. Rev. Dr. Yaw Frimpong-Manso, the chairman of the Christian Council of Ghana and Rev. Dr. Fred Deegbe, general secretary.
President Mills noted that rulers or those entrusted with power ought to be fair, just and be guided by what is right.
He said there are no different versions of what the truth is and that the truth is guided by one's conscience.
The President indicated that as long as he would be guided by his conscience he would not depart from the truth.
President Mills reminded Ghanaians that he has an agenda to prosecute and that nothing would dissuade him from meeting the developmental needs of the people of Ghana.
He commended Ghanaians, especially Christians for their fervent prayers before, during and after the elections.
President Mills acknowledged the prayers of the churches and said "if there are people who did not believe in God those persons should change their mind."
He called for more prayers, adding that "no ruler is a repository of wisdom", adding that he must always go on his knees and pray to God.
For his part, Rt. Rev. Dr. Frimpong-Manso admonished the President, saying, "We believe that it is God who establishes kings and has put you in this presidency to do His will. We trust you will do that, being careful to avoid all ungodly counsel."
He urged President Mills to take issues of rule of law, justice and accountability more seriously.
"We were very glad when we heard you say in your inaugural speech that you will not be vindictive; indeed the cycle must stop somewhere so that we can direct our energies to solving the myriad of problems confronting us as a nation," Rt. Rev. Dr. Frimpong-Manso advocated.
He added that "many Ghanaians face challenges with daily living as they struggle for employment, food, shelter, etc. For such people, they can hardly wait for an improvement in their situation.
"We join you in prayer that God grants you a great team to work with and wisdom in the daily decisions you have to make for Mother Ghana and for your good self."
Most Rev. Robert Aboagye-Mensah led the group to pray for the President and the people of Ghana.
By Wisdom Peter Awuku