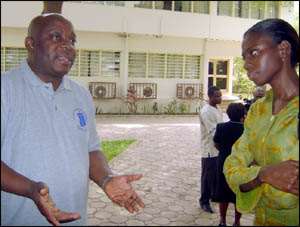 Dr. Fred Deegbe (L) speaking to Caroline A DOCUMENTARY which exposes daily slavery rituals children go through as a result of their parents' negligence was on Tuesday launched by the Christian Council of Ghana (CCG) in Accra.
The project, dubbed "Fight Against Child Trafficking", formed part of the advocacy tools that assisted in the Council's work in getting the relevant agencies to enforce the Human Trafficking Law, Act 2005 (Act 694) as well as others, which sought to protect the rights and interests of the Ghanaian child.
Started two years ago, reports indicate that vulnerable children with ages ranging from five to 14 years fall prey to this deadly expedition on the coastal areas of Greater Accra, Volta and Central regions and along other river banks.
Pressmen had the opportunity at the launch to gather firsthand information and showcase to the world that such barbaric situations still existed in this part of the world.
Viewing the inhumane but adventurous pictures on the screen, several minors were seen paddling old dug-out canoes to destinations where they could best catch some fishes for their 'slave masters'.
While some of the canoes carried about five children or less on board with clothes on, others were seen in either tattered clothes or just panties to cover their backsides and private parts.
Furthermore, these children in some cases faced the wrath of their masters whenever they flouted rules or were unable to use their 'common sense' to make things right.
One of these slave masters struck a five-year old boy with the paddle continuously. The boy was later reported to have sustained severe injuries on parts of his head.
Also, as a result of such brutalities meted out to the kids, one has now become a hunch-back for life. He was not born with such a disfigurement though.
Parents of these chaps, who have been described as Ghana's future leaders were said to have been taking meagre amounts ranging from GH¢30 to GH¢50 from the child traffickers.
Four kids were also seen on the Volta Lake which spans via Lala, North of Kete-Krachi in the Volta region of Ghana.
As a form of yielding to stress, they took a time off to take a bath in the river and showed some swimming skills.
General secretary of the Christian Council of Ghana, Rev. Fred Deegbe noted that even though the laws are there to be used, "we are found wanting" when it comes to its implementation.
He said that if indeed it is poverty that constitutes such abnormalities, then there should be a way out.   
Mrs. Joyce Larko Steiner, Human Rights Programme Manager also told DAILY GUIDE that the project cost about £80,000 and was funded by the Department for International Development (DFID).
By Nathaniel Y. Yankson