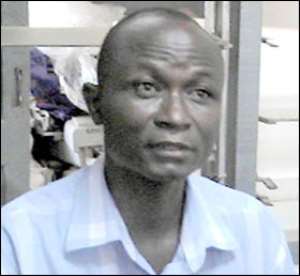 Mathew Draffor THE VOLTA Regional Directorate of the Ghana Health Service has begun investigations into a strange disease that hit Anfoeta-Gborgame recently resulting in the death of a gong-gong beater and the incapacitation of 12 others.
The Regional Disease Surveillance Officer, Mr. Matthew Draffor, in an interview told DAILY GUIDE that the symptoms of the disease do not give easy clue for one to determine which sort of disease it is.
Mr. Draffor mentioned that the Regional Disease Surveillance Unit had taken samples from victims to Accra to find the cause of the disease and immediate remedies. He however appealed to the victims to report to the regional hospital for medical check-up.    
A strange disease which causes the sufferers to suddenly become dizzy and subsequently blackout recently broke out at Anfoeta-Gbogame in the Ho Municipality.
The victims remain in coma for about one and a half hours, and sometimes experience spasms before regaining consciousness, but with a lingering general feeling of malaise for days. The Regional Surveillance Officer said medical investigations on victims, however, did not show any trace of epilepsy.
DAILY GUIDE gathered from rumours, upon a visit to the town, that on the January 19 this year a woman who came to the town for a funeral showed symptoms of the strange disease and when her friend went to her rescue she was also attacked and both of them fell into coma, which is a major symptom most victims suffer.
The incident, many residents say, was the beginning of their woes as more people have been attacked ever since, increasing the number to about 13, of which one died as at press time yesterday.
Mention was also made of an instance when two people who came to the rescue of a victim, after he had gone down twitching, also felt dizzy and collapsed.
The entire community is gripped with fear as no medical reason has been given yet for the sickness, more so when the condition had not been reported in any of the nearby communities. Others are however attributing it to a possible wrath of the gods, even though they cannot tell why the gods might be angry with them.