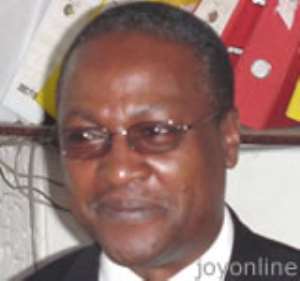 Vice President John Mahama at the weekend, acclaimed President John Atta Mills, as a focused leader, who is laying a solid foundation for a convention that would be a legacy for the country's transition process in future.

He said despite the pressure from some activists of the ruling National Democratic Congress for a quick pace approach to the transition, President Atta Mills was quite focused " and things are going well", he emphasized.

Mr. Mahama made the observation when he interacted with the Embassy Staff of the Ghanaian Mission in Cote d'Ivoire, during a
brief stop over on his way to the 12th Ordinary Session of the Assembly of Heads of State and Government in Addis Ababa, Ethiopia.

The five-day meeting, which coincides with the 14th Ordinary Session of the Executive Council of the Africa Union is on the theme: "Infrastructure Development in Africa."

Mr Mahama noted that public perception about transitions is the removal of public appointees from their offices and explained that despite some of the pitfalls associated with the constitutional process, it is still a better option for the country in order to facilitate socio-economic progress.

He said the democratic credentials of Ghana had been hailed worldwide hence the need to deepen it.

Mr Kabaral Blay Amihere, Ghana's Ambassador described Mr Mahama as a very capable person and asked him to use his competence to enrich his high office.

Mr Mahama is expected to visit a site for a proposed chancery for Ghana in Addis Ababa and attend the 10th Summit of the Africa Peer Review Forum for Participating Heads of State and Government.

He would also address the Ghanaian community in Addis Ababa and attend the Special Session on the Union Government of Africa.

The Vice President is likely to interact with a number of Very Important Personalities who are seeking audience with him, including Mr Ellen Johnson Sirleaf, Liberian President, Mr Stephen Smith, Australian Foreign Minister, and Mr Jean-Loius Erka, President of Africa-Import Bank and Mr Philip Carter, Acting Asssistant Secrerary of State for African Affairs.