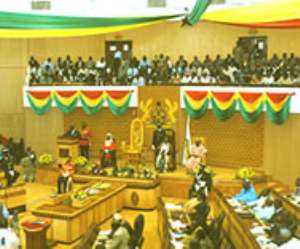 Parliament
Parliament's Appointments Committee is scheduled to begin public hearings on President John Evans Atta Mills' ministerial nominees to various ministries next week.
Mr Alban Bagbin, Majority Leader, said the vetting would start on Friday, February 6.
He announced this when presenting the Business Statement for next week on the floor of the House.
The Appointments Committee, under the chairmanship of the First Deputy Speaker, Mr Edward Doe-Adjaho, met this week to establish modalities for the vetting process.
Members of the public with information on any of the nominees are expected to make it available to the committee before it commences work.
Meanwhile, Members of Parliament would be meeting from Saturday to begin a six-day induction course at the Ghana Institute of Management and Public Administration (GIMPA).
Mr Bagbin said the seminar would enable members learn "a lot about the work of Parliament and other pertinent issues that would facilitate their work."