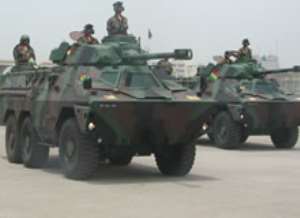 MILITARY
The Ghana Armed Forces on Thursday bade farewell to Lt. Gen. J.B. Danquah, its immediate past Chief of the Defence Staff (CDS), at
a ceremony at Burma Camp.
Lt. Gen. Danquah's honourable release from service was announced by President John Evans Atta Mills and he formally handed over command to his successor, the Chief of Naval Staff, Rear Admiral Arthur Riby Sampa Nuno.
A release signed by Lt. Col. M. Atintande, Director of Public Relations of the Ghana Armed Forces, said according to Rear Admiral Nuno, Acting Chief of Defence Staff (CDS) the ceremony was not only to bid farewell to Lt. Gen. Danquah but also to celebrate his long, illustrious and distinguished service career spanning over 40 years.
"We may be inspired and hereby achieve similar excellence for the Ghana Armed Forces and our dear country Ghana," he said.
Rear Admiral Nuno thanked Lt. Gen. Danquah for his "selfless and dedicated service to the Ghana Armed Forces," and also congratulated him for his many achievements, which, he said, had been truly remarkable right from the Military Academy where he graduated in 1969.
He said, Lt. Gen. Danquah won the Sword of Honour after which he served the colours diligently and faithfully, citing the exceptional command and leadership role he played when he commanded ECOMOG GHANBAT 2 in Liberia in 1991 which helped douse the flames of the raging conflict in Liberia and the glory that it brought the Ghana Armed Forces and Ghana as a whole.
Real Admiral Nuno also lauded Lt Gen Danquah's relentless negotiation with government resulting in improved conditions of service, the elimination of distortions in the Ghana Armed Forces salary structure, the review of GAF pensions resulting in increase of ex-gratia awards for service personnel and widow's pensions.
He also mentioned the professional and impartial role the Armed Forces as an organization played in the peaceful general election and the smooth political transition.
On his part Lt. Gen. Danquah said his tenure had been very interesting, challenging and demanding but nonetheless beneficial and full of experience.
Acknowledging that there was a lot more to be done, he reminded the Ghana Armed Forces of the fresh challenges, such as the new peacekeeping mission in Chad and the oil find, but said he believed they would stand up to the task as the continent and the world at large held the Ghana Armed Forces in high esteem.
The outgoing CDS described his successor as an officer with a very rich military experience and therefore urged all to rally behind him with willing loyalty.
Lt. Gen. Danquah's final farewell message was "serve your conscience, serve your country and serve your God and my peace I leave with you".
He was presented with gifts on behalf of the General Headquarters and the Ministry of Defence while he also made some presentations to some individuals including his successor, service chiefs, and directors-general.