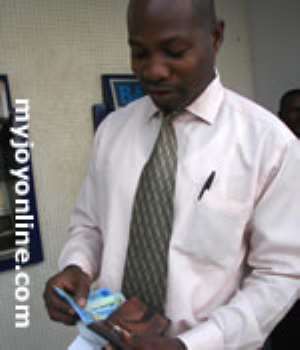 Though the impact of the global economic crisis on Ghana's economy is said to be unlikely in the short term, low trading patterns recorded lately on the Ghana Stock Exchange seem to raise some concerns.
The Daily Guide's investigations indicate that the low performance of the bourse is mounting pressure on some foreign investors in the country to relocate their capital to other countries.
The investors, most of whom came in as portfolio investors through initial public offerings of corporate institutions, are calling it quits with their Ghanaian counterparts due to the recent unattractive trend largely occasioned by the general recession, sources say.
Other issues described as unpalatable are the conflicting regulatory responses on the exchange rate and interest rate.
In the recent past, the cedi has witnessed stability and sometimes appreciated, earning it the nickname, 'Kufuor dollar'. This was further buttressed in its almost consistent one-to-one parity with the US dollar.
However, since the beginning of this year, such high level of confidence has waned dramatically, with people rushing to exchange large stocks of the cedi for the US dollar. This has caused the cedi to depreciate above two percent against the dollar, the worst in three years.
Share Prices on the Ghana Stock Exchange (GSE) continued their decline for the third week running, entering the fourth week despite improving over previous days' trading. On Monday, the Accra Bourse saw no price change in trading.
Last week for instance, a total of six laggards were recorded with Ghana Commercial bank (GCB), UT, SIC and SG SSB among listed equities who lost some shares. SIC lost GH¢0.02 to close at GH¢0.46 and UT went down by GH¢0.01 at GH¢0.30.
Five of the six laggards for this week were financial stocks led by an eight-percent slump in SG-SSB.
An investment analyst told this paper: "The global recession is affecting corporate organisations so much that what they are thinking of now is the consolidation of resources to keep their heads afloat until the tide subsides."
To make matters worse, there has been a recent media report that some companies including banks, especially those which were set up in the country during the previous government's tenure of office, are apprehensive of Present President John Atta Mills' government.
Some management executives of these companies were quoted by the media to have said that some people in the new government have begun harassing them with several questions about their businesses.
Most of these companies, according to media reports are foreign-owned multinationals which have entered into big project contracts with the previous government.
"Having to provide answers to verbal queries with regard to how we entered the country, and which Ghanaian group or individuals facilitated our entry, among other issues, is rather frustrating," one foreign investor told the media.
The situation, according to analysts, can affect the country's entire financial system if the outflows are large enough.
However, Collins Appiah, a Financial and Investment Analyst at Gold Coast Securities Limited, has asked foreign investors in the country to do away with fears that the President Mills will prosecute them.
Speaking to reporters in Accra on Tuesday, Mr Appiah said instead of entertaining fears, foreign investors should approach government, negotiate with it and iron out certain policies.
"I don't think government will do anything to drive away investors since local people do not have money to invest."
According to him, it would be in the country's interest if government should meet foreign investors this time and explain a few policies to them since it needs their support to be able to achieve its economic targets.
Dr Seddoh, a senior lecturer at the Central University Business School, also told this paper that he does not believe government could do a thing such as this.
"Our leaders believe in the principles of the rule of law. If the investors have done what is right, I don't think anybody can drive them away. It could be that the circumstances under which some of these companies have been established are unclear."
Even with that, he said, Ghana is not under a military rule now where anybody can take the law into their hands and subject investors to unnecessary tension.
"All economies in the world are interrelated and therefore it is time we identified what we can produce best and export to assuage the impact of the crisis on our economy."