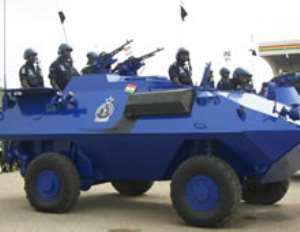 Over 100 persons suspected to be dealing in stolen phones in the capital have been arrested in a police swoop.
The swoop conducted at Kwame Nkrumah Circle in Accra on Friday was part of an operation by the police across the country in an attempt to curtail the activities of mobile phones snatchers terrorizing innocent residents.
The police say the operation will be sustained.
Snatching of mobile phones by criminals usually riding on motorbikes has become a common phenomenon in the national capital Accra and other big towns across the country. They succeed in their sadistic 'businesses' by using various antics to frighten their victims and compel them to submit to their demands. Most victims who exhibited the slightest of resistance are butchered with machetes and other sharp objects; including the use of life threatening devices like guns and clubs in pursuit of their nefarious agenda.
DSP Kwesi Ofori, Police Public Relations Officer, told Joy News the police is targeting areas "violent criminals" operate.
He said the police would be "hitting at right targets" across the country to bring the criminal activities to their barest minimum. People doing genuine business have been told to go on with their business without fear because what the police is doing is "not a question of just arresting people" but intelligence-backed operations aimed at violent criminals, - at people who perpetuate various crimes.
He said the police is being cautions in undertaking this exercise by employing a "human face" to ensure that "we don't involve innocent people".
The police, he warned, would not only go after only the core people who perpetuate these crimes, but their cronies, including buyers, who help to flourish such misdemeanours.
Joy FM's Evans Mensah, who has been monitoring the exercise, says a big number of suspected criminals hawking stolen phones on makeshift table-shops were arrested at random precisely around the vicinity of the Ghana Telecom building by about 100 police personnel.
He said mobile phones that sold at about GH¢900 are pawned at GH¢300 there. Their affordability has been tempting and has attracted a number of customers, endangering the business of genuine mobile phones dealers.
Some 'lucky' vendors who escaped arrest complained bitterly about the police operation describing it as "very, very bad". They also claimed they have valid registration documents covering their businesses.
The Nima Divisional Crime Officer reiterated that the swoop was carried out based on intelligence information they received.
"It is something which we are not going to stop. We are going to continue everyday, and we are assuring the public that those who would be arrested without any incriminating (charges) would be screened and released but those who would be found culpable would be put before court," the police officer said.
Story by Isaac Essel