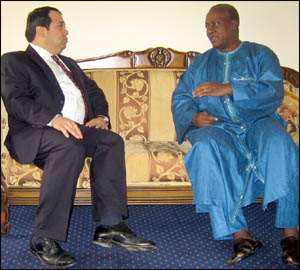 The Vice President, John Dramani Mahama has said government will weigh all options available to the country before deciding on which strategy to adopt with regard to the stabilisation of the economy.
He said the National Democratic Congress (NDC) made a number of promises to Ghanaians during the electioneering campaigns and would strive to implement programmes that would be tailored towards meeting those promises.
He said the Ghanaian electorate were wide awake on all promises the party made to them during the electioneering campaign so government must make sure to fulfill those promises since the electorate could no longer be taken for granted.
He said Ghana as a member of the global village was entitled to engage with the Bretton Woods institutions but would do so in a positive and constructive manner in collaboration with her bilateral partners so that together they can work to meet the demands and aspirations of the people.
The Vice President said these when the United States Ambassador called on him in his office at the Castle, Osu.
He said as a new government the President was fervently putting together his team and will soon come out with the state of the nation address so that collectively, all available skills, experience and resources will be mobilised to drive the Government's agenda.
According to the Vice President, the government transition team will complete its work in February. The President will then present the state of the nation address and subsequently present his budget to Parliament which will outline the economic policy of the NDC administration.
On his part the US Ambassador, H.E. Donald Teitebaum applauded the maturity with which Ghana organised the just ended December 2008 polls.
He mentioned that the US government was prepared to put forward a team of experts to assist the new administration led by President Mills to find her feet and also fix some of the problems the transition team would identify.
The Ambassador said the US government and Ghana's new administration had a lot in common because of the social ideological values shared by the two current and new administrations. He said the only differences between the two countries could probably be how each of them implements policies and programmes.