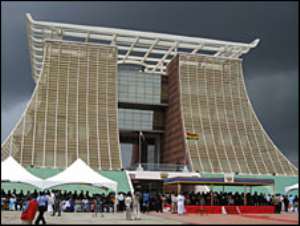 P.V. Obeng speaks on presidential palace
The chairman of the government transition team, P.V. Obeng says the new presidential palace will be inspected for defects before the President is "advised to move in."
He said this is necessary because a lot of concern has been raised about the possibility that it might not be safe for habitation.
The about $80-million mansion christened Golden Jubilee House, has spawned a lot of controversy as members of the National Democratic Congress (NDC) accuse the New Patriotic Party (NPP) of superfluous spending.
Mr Obeng speaking to Joy FM on Thursday said although the team has faith in the engineers who worked on the project, thorough architectural checks were required to ensure that the building can be occupied by the President.
He told Joy FM he is initiating processes to get the executive assets committee of the government transition team to invite the Ghana Institute of Architects and the Ghana Institute of Engineers for the checks.
"We believe that it has been built as a state asset for stated purpose and I believe that our job is to ensure that it is put in a state of readiness for use," he said.
Mr Kwadwo Mpiani, former Chief of Staff, however said the start of government business from the plush edifice remains the prerogative of President Atta Mills.
The mansion and the controversy
The NPP government secured a $60-million loan from the Indian government, part of which was used to kick-start the project.
But the start of the project sparked a new debate on government spending priorities.
While the then NPP extolled the construction of the project as Ghana's Presidential Palace, the NDC dismissed it, and its members rather called for such funds to be used towards solving the nation's energy crisis, alleviating poverty and providing accommodation on the country's university campuses.
The NDC had threatened to convert the edifice to a hospital but Prof Mills at a later date described it as an imposing building amid broad smiles.
The former Chief of Staff and Minister of Presidential Affairs, Mr. Kwadwo Mpiani told Parliament in July 2007 that the cost of the project at its initial stage was $36.9 million but the total cost could only be known after completion.
Although figures flying over the cost of the building put it at $80 million, the chairman of the executive assets committee of the government transition team, Don Arthur, has said some $12 million more would be needed to complete the state asset to the last fitting.
It is not clear when the President will move from his Castle office to the palace, but there are doubts on whether at all he would go.
Story by Fiifi Koomson