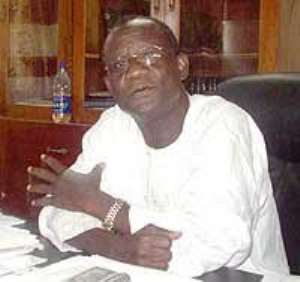 The National Commission for Civic Education (NCCE) has questioned the appropriateness of the Speaker of Parliament acting as President in the absence of the President and the Vice President.
Larry Bimi, chairman of the Commission, who made the submission yesterday said, it was the NCCFs conviction that only people voted for by Ghanaian electorate should at any given time act as President.
"Let's call a spade a spade; if both the President and his Vice die today, it will be against the sovereign will of the people to have the Speaker of Parliament organise an election within 30 days," he said in a contribution to a panel discussion on the draft Presidential Transition Bill in Accra.
The discussion, organised by the Institute of Economic Affairs (IEA) Ghana, sought to provide a platform for key stakeholders in the transition to make inputs into the draft bill.
He stated that it was the President and his vice who campaigned and put forward programmes for which they were voted into office and not the Speaker.
"This is very important because the people did not cast their votes for Justice Bamford-Addo, for example and so this arrangement runs counter to their sovereignty and their sovereign will," he emphasised.

Consequently, he called for the establishment of a Succession List of people who should act in the absence of the President and the Vice.
He listed the Minister of Finance, the Foreign Affairs Minister, the Minister of Defence, Interior and Education in that order, as those who should act.
"It is not likely that we will have all these people dying at the same time," he said.
Mr Bimi stated that the sovereignty of the people was supreme, which explained why Article 49 of the constitution required that a group of people must campaign based on their programme to be voted for.
Fifty-eight suspected criminals were yesterday rounded up in separate police swoops in Accra.

The suspects, mainly from drug dens in Teshie, Nungua and Madina, were allegedly found with 250 wrappers of substances suspected to be Indian hemp a toy pistol and large quantities of fresh leaves suspected to be Indian hemp.
Briefing the media at the Police Headquarters in Accra where the suspects were taken, Assistant Commissioner of Police (ACP) Angwubutoge Awuni of the Nima Division of the Police Service, who led the operation, said the swoop formed part of a nationwide exercise to rid the country of undesirable elements whose activities intimidate the public.
He said the police administration was committed to ensuring peace and order in the country and will do everything within its powers to flush out criminals in the country.

"Combating crime in the country would demand the support of the public who must volunteer to the police information on criminal activities within their communities," he said.