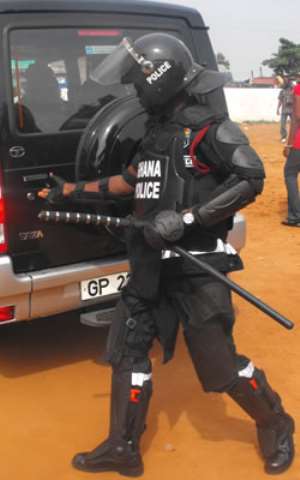 The Ho Municipal Police have mounted a search for four officials of the Customs Excise and Preventive Service (CEPS) at the Nyivie border post for allegedly shooting and wounding a 32-year-old carpenter.
The four have, since January 16 when the incident occurred, vacated their post.
The police have identified two of the four officials as John Diemo and Emmanuel Ofori.
The victim, Tepelolonyo Dzamposu, who was shot twice on the buttocks and once on the hip, is said to be in a stable condition at the Volta Regional Hospital. Doctors have managed to remove two of the pellets but are having difficulty removing a third one lodged in the hip bone, according to hospital authorities.
Narrating the incident to the Times from his hospital bed, Mr Dzamposu said he boarded a motorbike that took him across the border to Togo where he was to visit his father and attend a funeral.
He said on his return from Togo at about 6.30 p.m., the following day, he was accosted by the CEPS officials who claimed that he had earlier that day cross the border without being allowed to do so.

They therefore seized the motorbike which he was riding.
He pleaded for the release of the bike but this apparently infuriated the officials who threatened to shoot him for showing gross insubordination towards them.

As he tried to break away from them, Diemo is said to have pulled out his pistol and shot him three times, twice on the buttocks and once on the hip.
He fell down and began shouting for help but the officials left him to his fate. He was saved by some people from the town who rushed him to hospital.