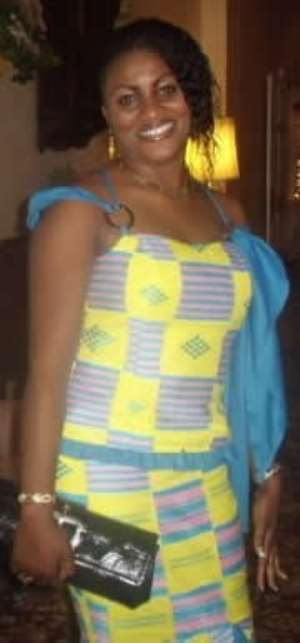 [IN ANOTHER DEVELOPMENT] --- Huge Crowd Expected at Victim's Children Scholarship Promotion Event on Saturday, January 31, 2009 in USA.

Eunice Baah, the 36-year-old woman from Bamang, near the Kente weaving Town of Bonwire in the Ashanti Region of Ghana, who was found brutally murdered with her 40-year-old boyfriend, Seth Aidoo, also from Ghana, in their Upper Marlboro, Maryland, gated community home in USA --- (a chilling murder described by many people as tantamount to "Hi-Tech Savagery Murder") --- will be buried today, (Friday January 30, 2009) in the United States of America, and a sea of crowd from all walks of life is expected to descend at the Friday Funeral, and a scheduled Saturday (January 30, 2009) Scholarship event for the Children of the murdered victim.
Paying his Tribute, Celebrated Human Rights and Civil Rights Activist - a former Ghanaian-American Los Angeles Mayoral Candidate and the 2004 / 2008 CPP Parliamentary Candidate for Nhyiaeso Constituency in Kumasi, Ashanti Region described the murdered Ghanaian Couple as Hard-Working People who dared to venture into the proverbial American Dream of Hardwork and Success.
"Eunice Baah was the Ideal Woman. She was beautiful both inside and outside. She had a pleasant personality and carried herself with dignity. Ghana has lost a Daughter. Africa has lost a Beauty Queen. America has lost a Role Model Legal Immigrant who worked hard to succeed, President Barack Obama has lost an offspring of a "Yes We Can Spirit", the Civil Rights Community has lost "Little Rosa Parks" who refused the indignities of the Back Seat and when given Equal Opportunities, moved to the Frontiers of the Front Seat and above all, the World Community has lost a true Human Being whose Precious Life was cut short by the ravages of the savagery which is part of a World drifting apart, said "Osagyefo Dr" Kwame Mayor, Great Grandson of Kumasi Adonteng Puduo Royal Family from Bamang, near the famouse Kente weaving Town of Bonwire in the Ashanti Region of Ghana where Ms. Eunice Baah, alias Akua Asiedua also hailed from.
The Pro-American and Pan-Africanist Politician asked Ghanaians around the World and American Friends of Ghana as well as the entire World Community to pray for the departed souls of Ms. Eunice Baah and Mr. Seth Aidoo.
"Let us not forget that Ms. Eunice left Children behind in this Cold World", the Human Rights and Civil Rights Activist publicly reminded Ghanaians around the World.
"Who will take care of these God's Children ?", the "People's Mayor" asked, amid un-controllable tears that flowed like the Niagara Falls as the Mysterious African River, Oda that flows quietly in the Farming and Kente-weaving Village of Bamang stares with sorrowful eyes.

Source: Uhuru Times

Signed for release : "Osagyefo Dr" Kwame Appiah
"Kwame Mayor"




About Eunice
----------------------
Eunice Baah (U Baah or Mama U)
Daughter, sister, mother and friend, Eunice Baah will be sorely missed by all who knew her. The Lord our God blessed Theresah Owusu Baah and the late Samuel Bust Baah with Eunice on May 10th 1972; and she passed away on January 13, 2009. Born in Sunyani, Ghana Eunice attended State Experimental International School and Konongo-Odumasi High School where she excelled in the 100 meter and the long jump. Eunice then matriculated to Kumasi Poly Tech where she learned fashion design. In an attempt to expand her horizons she traveled to London, England in 1992 where she began her career as a healthcare professional. In 1996 Eunice joined her family in East Hartford, Connecticut before settling down in Manchester, Connecticut.
A Yaa Asantewaa, Eunice loved life and all of the finer things that it has to offer. She loved to travel, shop, cook and her reputation for performing a task to perfection preceded her. Furthermore, she prided herself in doing good and looking good, which would explain why everyone loved to be in her company. In addition to being a phenomenal woman who was driven to excel in everything that she did, Eunice was perceptive, dependable, and polished.
Eunice is survived by her two children, Jason Yeboah, 11 and Janelle Dankwah, 7, her mother, Theresah Owusu Baah, her brother, Dr. George Baah, her sister, Josephine Fordjour Baah Minkah, brother-in-law, Samuel Amponsah Minkah, sister-in-law, Afia Sarpong, and a host of nephews, nieces, loved ones and friends.
* Below is full details of the Funeral Arrangement :
=====================================

The programs are schedule as the following :
=========================================================
Body Viewing: Newkirk & Whitney Funeral Home
318 Burnside Avenue
East Hartford, CT 06108 (Map It)
Date: Friday, January 30, 2009
Time: 1:00 p.m - 5:00 p.m

Final Funeral Rites: The Oaks
1070 Suffield Street (Rte 75)
Agawam, MA 01001 (Map It)
Date: Friday, January 30, 2009
Time: 7:00 p.m - 12:30 a.m

Funeral Procession & Bod Viewing: Newkirk & Whitney Funeral Home
318 Burnside Avenue
East Hartford, CT 06108 (Map It)

Date: Saturday, January 31, 2009
Time: 9:30 a.m - 10:30 a.m

Burial: Silver Lane Cemetery
1312 Silver Lane
East Hartford, CT 06108 (Map It)
Date: Saturday, January 31, 2009
Time: 10:30 a.m – 12:00 p.m

Friends of Eunice Social Hour & Children Educational Fund Promotion
Date: Saturday, January 31, 2009
Venue: Veterans of Foreign Wars (VFW)
3 Bidwell Ave
East Hartford, CT 06108 (Map It)
Time: 2:00 pm - 1:30 am

Memorial Mass: St. Mary's Church
15 Maplewood Drive [Off Main Street]
East Hartford, CT 06108 (Map It)
Date: Sunday, Febraury1, 2009
Time: 2:00 p.m - 4:00 p.m