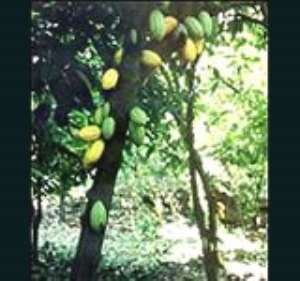 Cocoa Tree
Cocoa rose to the highest price in five months on speculation that crop-damaging armyworm caterpillars will spread into Ivory Coast and Ghana, the world's leading growers.
The plague that has destroyed crops in Liberia may spread to much of West Africa unless action is taken, the UN Food and Agriculture Organization said in a statement today on its Web site. Ivory Coast, which shares a western border with Liberia and is adjacent to Ghana on its eastern side, may produce 1.1 million metric tons of the beans this season, down 20 percent from a year earlier, an exporter said today.
"A decrease in production has been the theme lately," said Fain Shaffer, president of Infinity Trading Corp., a commodities brokerage in Medford, Oregon. "Any type of disease that's going to threaten the crop could definitely take the price higher."
Cocoa futures for March delivery rose $9, or 0.3 percent, to $2,801 a metric ton on ICE Futures U.S. in New York. Earlier, the price reached $2,837, the highest for a most-active contract since Aug. 29. The chocolate ingredient gained for the fifth straight day and the eighth time in nine sessions.
Cocoa harvesting in Ivory Coast, which officially starts Oct. 1, began late this year because of bad weather and prolonged rainfall. Arrivals of cocoa at ports in Ivory Coast fell as much as 40 percent in the current season, International Cocoa Organization statistician Laurent Pipitone said this month. World output will fall short of consumption, Pipitone said.
Cocoa has gained 5.1 percent this month. In 2008, the price jumped 31 percent, the most among 19 raw materials in the Reuters/Jefferies CRB Index.