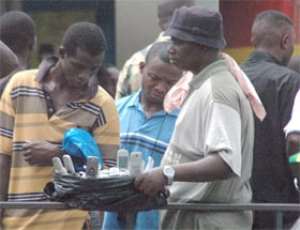 Some of the mobile phones dealers IN AS much as people will like to buy their mobile phones from recognized dealers and shops, the new trend that is gaining currency in the industry is the sale of mobile phones on tables and even trays.
At about 8:30 am yesterday when CITY & BUSINESS GUIDE got to the Kwame Nkrumah Circle, the nerve centre of this new trade, business was briskly going on.
People were seen purchasing phones from these boys, some of whom told this paper that they make a daily sale of about GH¢1,000.
It was even more surprising to see some police officers who are supposed to be driving these people from the pavements, also buying phones from the dealers.
When this reporter approached one of these mobile phone dealers to purchase a phone, it was realized that a phone that would originally sell for GH¢200 was going for as low as GH¢80.
Upon investigations, it was revealed that some of these phones were stolen items, so they had to sell them at reduced prices, since most of them were slightly used.
In an interview with this paper, Steven Aboagye at JIC'5 Phones, at Circle, said the new practice which started over a year ago, is taking a toll on their business.
He explained that most of the phones and accessories that are being sold by these boys are not of good quality and since most people do not know the difference between a quality phone and an inferior one, they would prefer to buy from the boys, since theirs are cheaper.
He said the disadvantage associated with buying from the boys is that they are not located at one position so tracing them becomes a problem, in case there is a problem with a phone one purchases from them.
According Mr. Aboagye, the police on countless occasions have driven the boys from the pavements, but they resurface the next day to engage in their business.
He therefore advised buyers to try as much as possible to purchase phones from recognized shops so they can easily change the phones in case there is a problem with it after purchase.
Another mobile phone dealer, Isaac Osei Wusu who is stationed around the Ghana Telecom area at Circle, also attested to the fact that his shop is also feeling the effect of the businesses that the boys on the pavement are engaging in.
He stated that the situation is becoming very worrying, and called on the police to do its best to drive them from the pavements since they are operating without licence.
However, Michael Ampomaa who at the time of this interview had just 5 phones which he was selling in a tray, said he was introduced to the trade by a friend who also does the same business.
He added that selling phones in a tray is not his style, but he is doing so with the hope of opening his own shop one day.
He stated that he got all his supplies from a friend who buys them from China, so his phones are genuine and brand new.
He emphasised that the removal of import duties on mobile phones and fixed telephone sets, has encouraged many people to import a lot of handsets.
Asked why their phones are less expensive than those that are sold in the shops, Michael stated that the phones are sold on a "reduce to clear" basis, hence attracting more patronage.
He said this is to encourage people to buy more phones so that they can get in touch with their business associates and loved ones.
By Esther Awuah