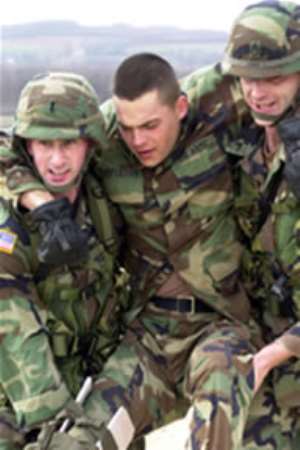 The rate of suicides among soldiers in the US army has risen to a record level for the second year in a row.
The army said there were 128 confirmed suicides in 2008, with a further 15 deaths still under investigation.
Military officials said they did not know why the number has kept increasing but that the stress of conflicts overseas had had a significant impact.
The army has said it is committed to addressing the issue and has introduced training to raise awareness.
"This is a challenge of the highest order for us," said US Army Secretary Pete Geren.
"Why do the numbers keep going up? We cannot tell you. But we can tell you that across the army, we're committed to doing everything we can to address the problem."
Conflict stress
About 35% of the suicides were of soldiers who had never been deployed, while 30% were soldiers who were on active service - three quarters of them on their first tour of duty.
Another 35% took place after deployment, mostly more than a year after the soldier had returned home.
The rise means that the military suicide rate is proportionally higher than the rate among American civilians for the first time.
General Peter Chiarelli, vice chief of the army, said he had "no doubt" that the stress of the ongoing conflicts in Iraq and Afghanistan was a factor in the rising suicide rates.
He said that long tours of duty and the high pressure of being in combat zones was putting a strain on service personnel and their families.
The US military said it has introduced training to make soldiers more aware of suicidal behaviour in themselves and others, and to reduce the stigma of seeking help.
It has also launched a long-term research programme into the issue, in conjunction with the National Institute of Mental Health.