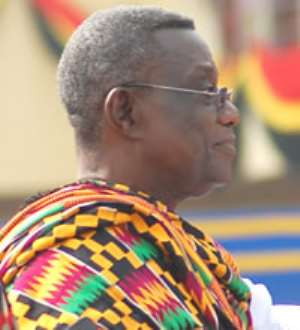 Ghanaians recently went to the polls to elect a new President to succeed outgoing President Kufuor. This was the second time under the country's nascent democracy, that one political party was handing over to another without violent dispute. Ghana can be said to have redeemed Africa's electoral image after the carnage the world witnessed during the Kenyan and Zimbabwean elections.

However, barely three weeks into his administration, Ghana's new President, Prof. John Atta Mills, is setting the pace for another rare political commodity on the continent - small government.

Unlike his predecessor John Kufuor who suggested that the complexity of running a government, (the African way of course), demanded an expansion in the size of government, Ghana's new President, John Atta Mills is demonstrating that it is possible to have a leaner administration.

The President has reduced the number of ministries from 27 to 23, not a significant feat, but relative to his predecessor's penchant for extravagance and in keeping with one of many campaign pledges, the good old Professor President appears to be serious.
Even if it was for scoring political points, such a reduction in government is necessary because it saves the ordinary tax payer expense on thousands of free fuel, hundreds of expensive corporate and luxury cars and millions of dollars which otherwise would be spent on salaries, allowances, per diem and pensions and ridiculous end of service benefits. It is estimated that 40 per cent of fuel usage in Ghana is freely taken up by government ministries, departments and agencies.

It was not surprising to learn that government spending under the immediate past administration was in a deficit to the tune of 14 per cent of our GDP, with spending exceeding 670 per cent of budgeted expenditure for 2008 alone. It is important not to continue on the path to wastefulness, else we risk accelerating our poverty to the post-independence days.

Even though it is an over used example, it is important to be reminded that in 1957 Ghana and South Korea had about the same GDP per capita, but fifty years on South Korea grew and Ghana stagnated. The difference in the political destinies of the two countries is that they had separate brands of governance. South Korea may have had some form of benevolent dictatorship, but it was no match for Ghana's occasional experimentation with military adventurism that toyed with the economy.

The Ghanaian economy has started to grow in recent years and may be on the right track. But it is about good institutions and government that is relatively small and allows the private sector to grow.

While we acknowledge this rare achievement on a continent where government is the largest employer, it is possible to effectively rule Ghana with only fifteen ministries if politicians recognize the need to appoint professionals who can multi-task and efficiently delegate functions within their respective jurisdictions. Mere political party loyalty without requisite skills should not be the yardstick for appointment to a high office.
Economy in government is one element in that story, and President Mills has taken a small but significant step in that direction.



Respectfully yours,
Franklin Cudjoe
Earhart Fellow,Buckingham University
Executive Director, IMANI
Editor, AfricanLiberty.org