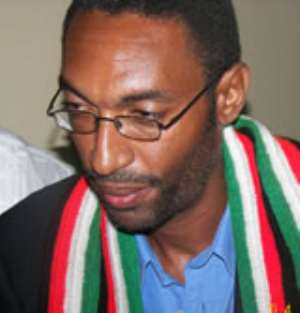 A son of Dr. Kwame Nkrumah, Ghana's first president, Sekou Nkrumah has criticized the Convention People's Party (CPP), a party founded by his father.
He said leaders and supporters of the party were leaning too much on his father's achievements stressing the need for them to reduce their dependency on Nkrumah's record.
He told Joy News after the launch of activities marking the 100th birthday of his father there was no denying the fact that Nkrumah was a big name in Africa but the CPP must move with the times.
"They are not telling us what they can do for us, all they say, like they were talking about today, is Nkrumah did."
Sekou Nkrumah, who is member of the NDC, said the CPP must repackage itself in order to be relevant to the country's democracy.
This is not the first time he is attacking the CPP or made unpalatable comments about it.
Immediately after the then NDC flag-bearer, Prof. Mills was declared winner of the 2008 presidential run-off, Sekou Nkrumah told Joy News' Steven Anti the CPP belongs to the past.
He believes the party has no future in Ghana's politics.
But his sister, Samia Nkrumah won a Parliamentary seat on the CPP's ticket in the election.
An achievement the NDC's Lee Ocran who lost the seat to her said could not have been possible without the name of Dr. Nkrumah.
Following his defeat, Mr. Ocran told Joy FM the people of the Jomoro Constituency voted as if Dr. Nkrumah himself was contesting the elections.
Story by Malik Abass Daabu