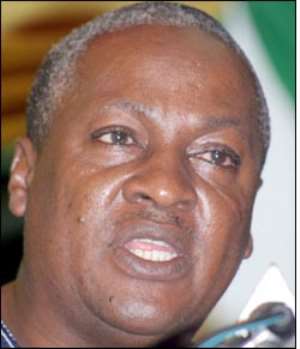 Veep John Mahama VICE PRESIDENT John Dramani Mahama has indicated that government will institute measures to protect local traders from any undue competition that would be sparked off by foreign investors in the country.
He explained that government will do this by ensuring that certain foreign investors who have abandoned their core business of importing and wholesaling to usurp petty trading - the preserve of the indigenous people - are checked.
Addressing the Executive Committee of the Ghana Union of Traders Association (GUTA) at the Osu Castle in Accra, Vice President Mahama mentioned that government would expedite action on the amended Ghana Investment Promotion Council (GIPC) code to be passed into law to ease the burden on local traders.
The Vice President said he was very much aware of the difficulties local traders go through to break even and would do everything within his capacity to bail them out.
He added that he had already initiated discussions with some foreign envoys who called on him to review the trade imbalance that exists between their countries and Ghana, in the interest of both parties.
He referred specifically to his discussion with the Chinese Ambassador on how best the trade imbalance between that country and Ghana could be rectified.
According to him, a lot of complaints have been made by local traders about the takeover of the local market by Chinese traders.
The Vice President stressed the importance of local trade to the country's economy, saying Ghana could only grow to a middle income status if the local industry was supported to grow.
He stated that he had enough confidence in the new Minister of Trade and Industry to deliver and promote made-in-ghana goods.
George Ofori, President of GUTA, after congratulating the Vice President on his assumption of office, was of the conviction that the latter would use his youthful exuberance to push GUTA's concerns for better attention.
Mr. Ofori pointed out that GUTA was not against foreign investors engaging in supermarkets and game shops but descending into domains such as petty trading, as that was detrimental to local entrepreneurship.
He added that owing to such activities of foreigners in the retail sector, landlords have been compelled to raise rent charges, making it impossible for the local entrepreneurs to compete.
Other GUTA executive members present at the event were Alpha Shabban, General-Secretary; Joseph Obeng, National Organiser; Augustine Oteng-Kusi, member; George Djan, member and Joe Paddy, member.
By Wisdom Peter Awuku