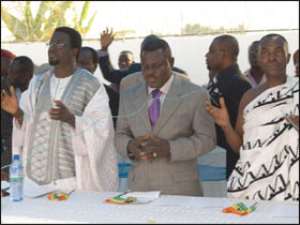 Baffuor (M) and others in a prayer session KWAME KYEI Baffuor, Chief Executive Officer of Light FM, a Kumasi-based radio station, has organised a prayer and thanksgiving service in recognition of God's mercy, which he explains saw the country through a peaceful elections in December.
Mr. Kyei, who also owns Unity Oil, an oil marketing company as well as Sport Hotel and Sport Recreational Centre, all in Kumasi, said since God did not neglect the prayer of Ghanaians but listened and sustained peace in Ghana, He was entitled to their praise.
"Ghanaians should comport themselves and cooperate with the government and work hard to improve their economic lives for a sustainable development in our country."
He called on Ghanaians to unite and throw away all traces of nepotism as well as dissociate themselves from tribal splinter groupings that could disintegrate the country.
Dr. Peter Agyei Annor, main speaker at the thanksgiving service, in a sermon, asked Ghanaians to always acknowledge God in all they do and strive to abide by the laws of the land to safeguard peace.
He also advised the media to give accurate and adequate information that will help build the nation.
Among musical artistes that added flavour to the occasion were Christiana Love, Kwaku Gyasi, Prof. Kofi Abraham, Rev. Yabs, Rev. Mensa Bonsu and Paa Boateng.
By Samuel Boadi