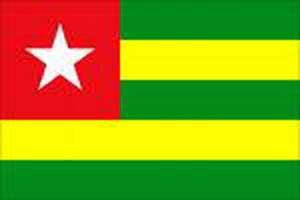 Togolese National Flag I T IS NOW quite clear that a wedge has began to appear within the walls of Togo's largest opposition party, the Union of Forces for Change, UFC party of Gilchrist Olympio.
The wedge within the UFC first appeared during the vote on the Togo National Budget Proposals for 2009 in Parliament.
While the UFC Parliamentary Leadership criticized and condemned the budget proposals of the Togo government and refused to vote in its favour, Habia Nicodeme defied the party's whip by abstaining from the vote.
The MP, who comes from Haho, one of the worst affected areas by the recent devastating floods which washed away farms and whole communities, said that since some aspects of the budget were meant to benefit his distressed constituents, "I found it difficult to vote against the budget proposals. I had to abstain".
Another rebel, Tsimesse Gbeya, MP for the Golfe district, refused to take instructions from Jean-Pierre Fabre, secretary-general of the UFC party.
The MP for Agou in central Togo, Kossi Kpoyi, also went ahead to take part in the exchange of New Year Greetings with the Togolese Head of State, Faure Gnassingbe, held in the interior parts of the country, last week.
This was against the UFC party's directives.
Soganyi Pascal, one of the oldest members of the UFC Parliamentarians, who represents Danyi constituency in southern Togo, has already fired his salvoes and announced that he will henceforth be voting on the floor of the House according to his conscience because "unanimity in towing the party line always kills democracy".
Observers here note that with the vital constitutional and institutional reforms before the House of Parliament, the ruling RPT party will need the votes of more opposition rebels to steamroller the bills into laws.
From Ebow Godwin, Lome