Must Prez Mills swear the oath of office again?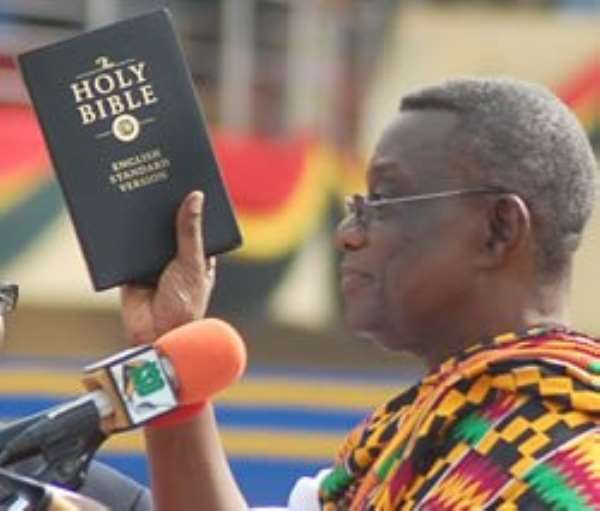 Parliament has still been debating whether the President John Evans Atta Mills should swear his oath of office again.
After a two-week recess Parliament met today and one of the first issues that came up was whether the President must be made to swear his oath of office the second time as happened in the US.
At Prof. Mills' inauguration as President on January 7, a recitation of the oath of presidency turned into a tough task as he missed lines and mispronounced certain words. Listen to attached audio
For example President Mills said "that I will all times defend" when he the Chief Justice had "that I will all time preserve."
On the floor Parliament, the Member of Parliament (MP) for Atwima Kwanwoma, Isaac Asiamah, who has publicly called on the President to take the oath, raised the issue again.
Views gathered in the streets of Accra were varied on whether President Mills must follow the example of the US.
If President Mills swears the oath again, he would have been the second president in the 21st century to swear an oath of presidency and of office again, after the US President Barack Obama.
The Sun newspaper in the US reported that Barack Obama had to take the oath of office again early January because a word was out of sequence the first time around.
Mr Obama originally swore to "execute the office of President of the United States faithfully".
According to the paper, he should have promised to "faithfully execute the Office of the President of the United States" as required by the US Constitution.
The US Supreme Court Chief Justice John Roberts, who administered the original oath, fluffed the line when he said it for Mr Obama.
But Mr Obama was compelled to re-take the oath with Mr Roberts at the White House in front of a group of reporters.
Story by Fiifi Koomson