Christ's call for repentance is real - Bishop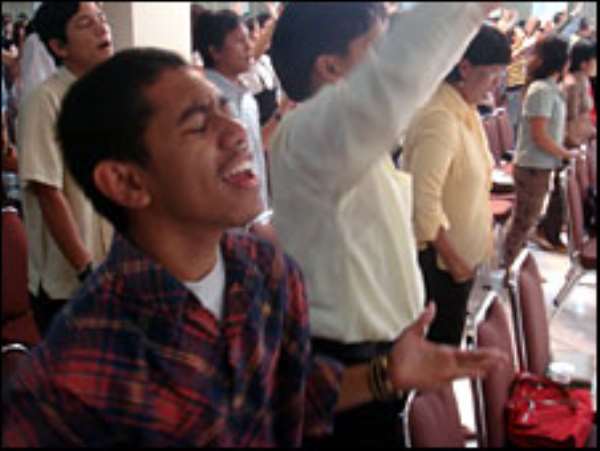 Right Reverend Samuel Osei Tutu Achamfuo-Yeboah, Bishop of the Methodist Church Tema Diocese, has advised Christians to repent from their sins and believe in the gospel for eternal life.
"Failure to repent and believe in the gospel is to reject heaven and it is doom forever in hell," he said.
Bishop Achamfuo-Yeboah said this at a church service on Sunday to dedicate a newly built chapel for the Bethel Methodist church in the Hohoe Circuit.
Preaching under the theme: "Repent and believe in the Good News," he said, whereas repentance of sin brought forgiveness, belief in the Lord Jesus Christ, gave salvation through faith in God and His word.
Bishop Achamfuo-Yeboah said the good news for Christians was that God would one day come to take away His people into His Kingdom, which according to him was a wake up call for every Christian who believed in the second coming of Jesus Christ.
"The kingdom of God is near, and there is the need for us to repent just as John and the other disciples preached," he emphasized.
He said repentance and belief in the good news were two different spiritual exercises, and Christians must achieve both in order to attain salvation.
"A person may repent alright, but may not believe in Jesus Christ as his Lord and personal saviour.
"Again, some people believe in Jesus Christ as their Lord and personal saviour but continue to remain in their sin.
"It is only through belief in the gospel and repentance that will lead to God's pardon and salvation," the Bishop explained.
He said many Christians believed in the second coming of Jesus Christ, but are refusing to change their life styles adding: "We will only gain salvation if we wake up from our slumber."
The newly built chapel was in commemoration of the 10th anniversary of the Zion Praise Singing Ministry of the Mount Zion Methodist church, Sakumono, Tema whose immense support saw the completion of the edifice.
Togbega Gabusu VI Paramount Chief of Gbi Traditional Area said the work done by the Zion Praise Ministry was worth emulating and called on members of the church to give unto the Lord in pursuit of His work.