We are waiting, Mr. President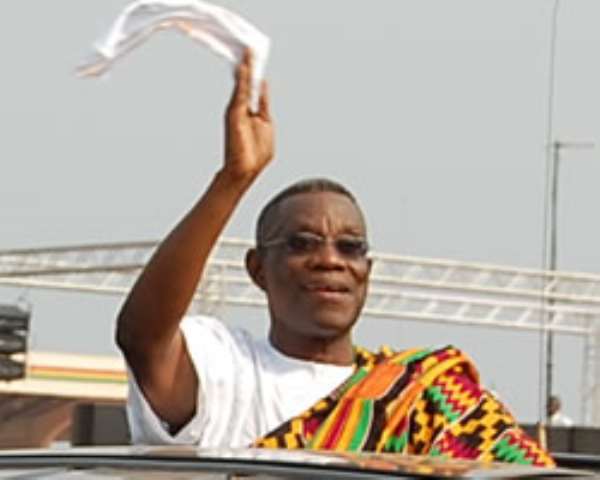 In the heat of the 2008 general elections, the then flagbearer of the National Democratic Congress (NDC), Prof. John Evans Atta Mills made a number of promises to Ghanaians. Among them were free uniforms for public sector school children, reduction in fuel prices, a lifetime premium for the National Health Insurance Scheme, building of hospitals, etc.
Immediately the former Legon Professor won the elections on the ticket of the NDC, Ghanaians started calling on him to honour his promises but the President has not responded to the call. Members of his Transitional team have however, given the indication that the economy, which the New Patriotic Party (NPP) left behind, was broke and that there was no money in the national kitty. These pronouncements seem to have created an impression on the minds of Ghanaians that the NDC government was looking for a leeway to renege on its numerous promises.
The Chronicle is, however, happy that President Mills himself, who made those promises has finally come out to assure Ghanaians that he would respect all the pledges he made during his campaign tour of the country. At a meeting with the National Chief Imam at the Osu Castle on Wednesday, this week, President Mills said as a Social Democrat, he would deliver on all the promises he made, and would also pursue policies that are geared towards the alleviation of poverty in Ghana.
For the ordinary Ghanaians who voted for the President and his party based on the promises that were made, there is no way they would accept the excuses that the economy is broke, and that such promises could no more be honoured.
This means that President Mills would have to do a lot of thinking to come out with alternative ways of raising money to honour the pledges. This is the only way Ghanaians can have confidence in his new government. As Prof. Mills himself noted sometime back, he has to hit the road running now, because he has an arduous task ahead of him, though we concede that he is yet to get the full complement of his government.
Despite his assurance that internal security would be the top priority of his government, there have already been reports of armed robbery attacks on innocent citizens, one of such attacks occurred in traffic in broad daylight, in the nation's capital, Accra.
This means that the armed robbery situation is getting out of hand so it would be wrong for the President to think that because his cabinet is not ready he cannot do anything about the situation. He must summon all the Service Commanders to strategize on how to deal with the situation, because that was what he promised.
Credit: The Chronicle