Tullow Raises £400m For New Oil Projects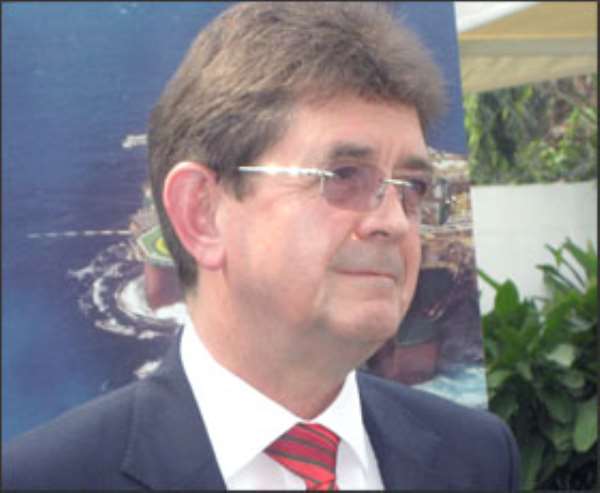 Dai Jones TULLOW OIL Plc. has indicated that it intends to raise about £400 million to strengthen its balance sheet and fast track the development of major oil finds in Ghana and Uganda.
Chief Executive Aidan Heavey, who disclosed this Wednesday, said the oil exploration and production company will effect this through placing new stock shares equivalent to almost 10 percent of its existing capital.
According to him, Tullow is ready to refinance existing debt facilities and expand them further from $1.4 billion currently to around $2 billion by next month.
Mr Heavey added that the share placing is not a condition for the refinancing exercise to be embarked upon.
Meanwhile, a trading statement of the company also revealed it had abandoned the planned $435million sale of its 11 percent stake in the M'Boundi field in the Republic of Congo to the Korea National Oil Company.
Also it noted that it was writing off about £235million mostly for reductions in the value of assets in countries such as Mauritania and Tanzania.
The placing of 66.9 million shares was set at 600p a share and this has received wide support from Tullow's shareholders.
Tullow's largest investors include BlackRock, M&G, Legal & General, Standard Life and Threadneedle Asset Management. Its brokers are RBS and Merrill Lynch.
It would be recalled that a day after President John Evans Atta Mills' inauguration, Tullow Oil announced it has found more oil at its Mahogany-3 well under the Jubilee field.
It further indicated that the results had raised its expectations for the field, although it did not specify new reserves estimates.
At least one billion barrels of high grade oil are expected to be drilled from an offshore rig the company has contracted for a period of five years and by the latter part of next year, Tullow hopes to start producing oil. Tullow is the second company after Kosmos to announce the discovery of oil in commercial quantities last year.
By Samuel Boadi