JHS Students Grabbed For Robbery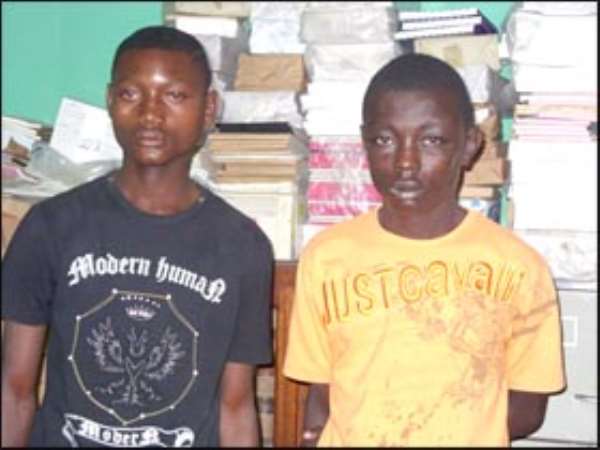 Aboagye and Tsagil at the Police Station TWO JUNIOR High School (JHS) pupils from Awutu in the Central Region who robbed a 24-year-old mason, Alex Amoah from Kasoa, at gun-point are in the grips of the law.
The two are Samuel Aboagye, 17, a JHS two pupil at the Great Promise International School at Awutu and Richard Tsagli, 19, also a JHS two pupil at the Roman Catholic School at Awutu Breku.
Briefing DAILY GUIDE yesterday, the Central Regional Police Crime Officer, ASP Fredrick Wilson said Amoah went to the Budumburam Refugee Camp on Wednesday evening to charge his mobile phone and when returning, saw Aboagye and Tsagli coming towards him.
The police officer narrated that when the two got closer to victim, Aboagye pulled a locally-manufactured gun while Tsagli pulled a knife and ordered Amoah to give up whatever he had on him.
They took away his mobile phone and an amount of GH¢120 and ordered him not to shout or else he would be killed.
When left to go, Amoah lodged a complaint at the Buduburam Police Station and with the assistance of the police, a search was conducted at the scene that day during which the two were seen hiding in a taxi at a fitting shop near the scene.
Upon a search, the police retrieved the locally-manufactured gun and the knife from them and sent them to the Central Regional Police Station for further investigations.
The two had admitted committing the offence and they will soon be arraigned.
DAILY GUIDE learnt further that during interrogation, the young men stated that they were influenced by Indian hemp popularly known as "wee".
From Sarah Afful, Cape Coast