Obama 'set to close Guantanamo'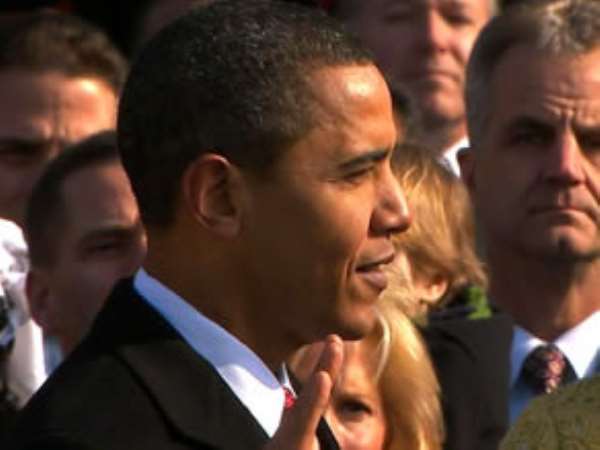 US President Barack Obama is expected to sign an executive order to close the Guantanamo Bay prison within a year.
A draft order circulated on Wednesday also called for halting military trials in the prison, where terror suspects had been held for years without trial.
Separate orders are expected to ban abusive interrogations and review the detention of terror suspects.
On his first full day in office on Wednesday, Mr Obama issued orders on government ethics and transparency.
The measures included curbs on lobbying and a pay freeze for senior White House staff. Federal employees will have to sign up to new ethics procedures.
Later Mr Obama and his advisers are expected to discuss the global economic downturn affecting the US and also the Iraq and Afghanistan wars.
Sworn again
Late on Wednesday, a panel in the House of Representatives gave its support to a $358bn government spending package, giving the first post-inaugural backing to the Democrats' economic plans.
Mr Obama - who was sworn in as America's new president on Tuesday - said he was beginning "a new era of openness" in government.
He was sworn in for a second time late on Wednesday, because one word had been out of order when the oath was first administered.
The White House said the ceremony had been repeated in an "abundance of caution".
On Wednesday, the US Senate confirmed the appointment of Hillary Clinton as secretary of state.
Senators earlier approved six Cabinet members, including Janet Napolitano as homeland security secretary and Steven Chu as energy secretary. Several other positions are still to be confirmed.
Trials suspended
The draft executive order on the Guantanamo Bay in Cuba was circulated by the Obama administration on Wednesday.
"The detention facilities at Guantanamo for individuals covered by this order shall be closed as soon as practicable, and no later than one year from the date of this order," the draft read, according to Reuters.
It says anyone still in detention when the prison is shut "shall be returned to their home country, released, transferred to a third country or transferred to another United States detention facility".
Speaking on condition of anonymity, a White House official said the order would be signed on Thursday.
Mr Obama has repeatedly promised to close the Guantanamo Bay, where some 250 inmates accused of having links to terrorism remain and 21 cases are pending.
On Wednesday, judges suspended several of the military trials of terror suspects at Guantanamo, at Mr Obama's request. One trial involved several men accused in the 11 September attacks in the US.
The legal process has been widely criticised because the US military acts as jailer, judge and jury, the BBC's Jonathan Beale reports from Guantanamo.
However, closing Guantanamo Bay will not be easy, he says. Questions remain over where those charged will be tried and where those freed can be safely sent.
On Thursday, Mr Obama is also expected to issue a separate executive banning abusive interrogation techniques such as waterboarding - a form of simulating drowning used by the CIA.
The president is also expected to order a review of America's detention policies, a White House official said.