'Kufuor did his best', Nana Akufo-Addo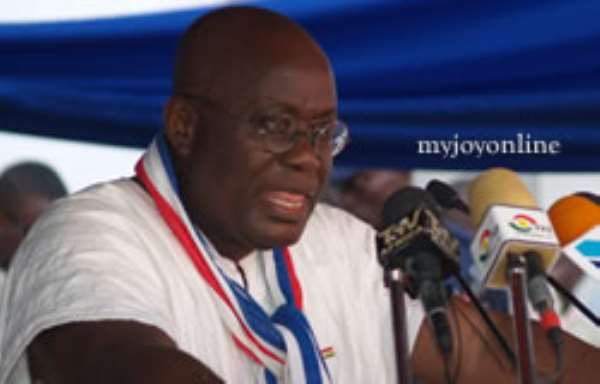 Defeated presidential candidate of the NPP, Nana Akufo-Addo has rejected suggestions that former president Kufuor failed to adequately support his presidential campaign.
He said the former president perfectly balanced his presidential duties with his role in the party's campaign.
Radio Max's Kweku Owusu Peprah said Nana Addo was speaking during his 'thank you' tour to Takoradi in the Western Region.
"The part about President Kufuor is something that has been going round but I don't accept it at all, President made a lot of contribution to our campaign."
He said former President Kufuor placed his wealth of experience in politics at the disposal of he the candidate, and others in the party.
"As far as his contribution is concerned, I have no criticism about his contribution whatsoever, I think that what he had to do he did and to the extent that it was also consistent with running the country, I have no problem with it."
Nana Addo appealed to members of the NPP to stop the blame game because the party's opponents could use the complaints against them in the future.
The failed presidential hopeful believes the issue of pair trawling led to party's poor performance in the region.
He was not happy with a question as to whether he was shocked by his defeat in the presidential elections.
"What would be your position, you go into an election and expect to win and you don't win, what is your reaction?"
He hopes the party will select him as its flag-bearer for the 2012 presidential elections.
Story by Malik Abass Daabu